Power Dressing
He puts stars in spectacular clothes. now the stylist Brandon Maxwell is designing them, too.
---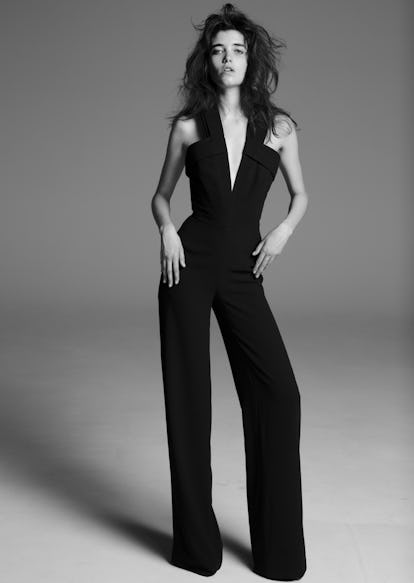 To say nothing of his most famous client, Lady Gaga,the stylist Brandon Maxwell, 31, has always been surrounded by confident, fashion-driven women. His grandmother ran a high-end boutique in Longview, Texas, where he hung out after school, putting together head-to-toe looks. ("I grew up under a clothing rack," Maxwell says, only half-joking.) His mother, meanwhile, was a fixture on the charity-gala circuit. "She'd go out with these big earrings and her shoes dyed to match the dress, and I thought she was the most beautiful thing I'd ever seen."
These proclivities for knock-'em-dead fashion clearly rubbed off on Maxwell: As a child, he would outfit his sister in extravagant ensembles constructed from bed sheets, nipped in at the waist with one of his father's cummerbunds. It's a silhouette that he would reference decades later in his first collection, which he presented at the famed restaurant Mr. Chow last month during New York Fashion Week. "This line is something I dreamed about my whole life," he says.
Comprised mainly of lean black suits with structured, triple-layer pleating and blush-colored crepe gowns, the 30-piece lineup offers timeless, luxurious clothes for women with places to go. It is, needless to say, inspired by and geared toward the kind of tough cookies Maxwell knows and loves. A pair of leggy alligator-skin trousers takes its cue from the flares that the photographer Inez van Lamsweerde, a close friend of Maxwell's since their time working together with Gaga, was wearing on the first day they met. "The women around me don't shy away from dressing," Maxwell says. "They use their wardrobe as armor." For those with less bravado—and smaller bank accounts—the pants also come in crepe.
Maxwell studied photography at St. Edward's University, in Austin, went on to assist a slew of influential stylists, and got his big break when Gaga hired him as her fashion director, in 2012. He has since been credited with refining her look, replacing the outlandish meat dresses with glamorous gowns, occasionally of his own design. He created much of the wardrobe for her recent Cheek to Cheek tour with Tony Bennett, as well as the jaw-­dropping sequined number she wore to the ­Grammys—efforts that prompted The Hollywood Reporter to name him one of this year's 25 most powerful stylists. It was with Gaga's encouragement that he launched his own line.
While he is the first to admit that he loves a head-turning showpiece, Maxwell stresses that the clothes in his collection are meant to be worn in real life. The horsehair padding around the waist of many of his jackets may be dramatic, but it is there to hold the wearer in, flatter her figure, and make her feel strong. "Women are everything to me," he says. "I'm so excited to get to know my customer, and to have my clothes see her through the good times and the bad."
Brandon Maxwell Spring 2016 look.
Brandon Maxwell Spring 2016 look.
Styled by Brandon Maxwell; Hair by Christiaan; Makeup by Aaron De Mey At Art Partner; Manicure by Deborah Lippmann at The Magnet Agency; Model: Grace Hartzel At Next Management. Production by The Collective Shift. Studio Manager: Marc Kroop. Studio Producer: Jeff Lepine. Lighting Director: Jodokus Driessen. Digital Technician: Brian Anderson. Creative Movement Director: Stephen Galloway. Photography Assistant: Joe Hume. Fashion Assistants: Heather Dunphy, Rachel Iwaniec, Diego Lawler, Anida Qerimaj; Hair Assistant: Taku Sugawara. Makeup Assistant: Tayler Treadwell