Monica Had Her Fendi Prints On at the Brandy vs. Monica Verzuz Battle
It's up to interpretation who won the battle between the two musicians, but Monica certain took home some awards in the wardrobe department.
---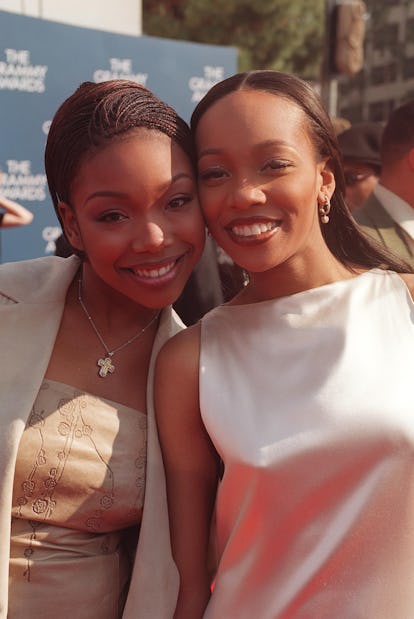 Image courtesy of Getty Images
It's been 21 years since Brandy and Monica won a Grammy for their purposefully catty R&B duet, "The Boy Is Mine," and eight years since the singers have spent a second together in the same room—until last night, when both musicians agreed to participate in the Verzuz battle to end all battles.
Throughout quarantine, many people have logged onto Instagram Live to watch their favorites go head to head, hit for hit, and see which musician comes out on top. There was Scott Storch vs. Mannie Fresh (pre-Verzuz branding), Babyface vs. Teddy Riley, T. Pain vs. Lil Jon, Snoop Dogg vs. DMX.
Over a million people tuned in to Brandy and Monica as they sat across one another in the Verzuz chairs (at Tyler Perry Studios in Atlanta), eight years after their falling out, looking just like Issa and Molly trying to reconcile after their friendship-rupturing tiff.
Throughout the show, both singers's fashion choices were talked about both in the Instagram comments and on Twitter, where many social media users live tweeted their response to the showdown. To the left, there was Brandy, dressed in what some might call art teacher chic (and white shoes, which may or may not have been a dig at her opponent). To the right, Monica appeared in what appeared to be a custom Fendi look, complete with matching corset, cropped jacket and a berret perched atop her slick bob, and a pair of pants that had Tyler, The Creator and Solange going back and forth in the comments section of the live stream trying to discern if they were in fact trousers or if they were waist high boots.
They went hit for hit with "Almost Doesn't Count," "So Gone," "Sittin' Up In My Room," "U Should've Known Better," and so on until they closed out the show with the duet everyone was waiting to hear.
After the battle was over around midnight—and after many a tweet instigating that the two still couldn't stand each other after all these years—the two appeared to squash any possible leftover beef.
Related: W TV Club: Moesha's Impact