Seven Socialites of Brazil to Know Now
Get to know the who's who of the Brazilian social scene before the Olympic games come to a close.
---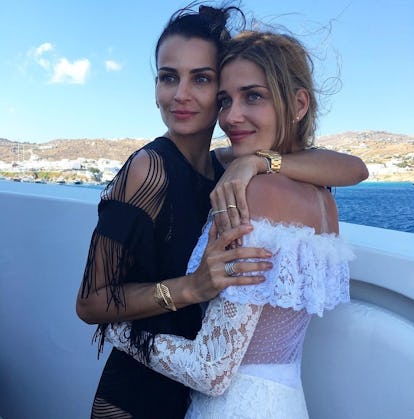 Fernanda Motta / Instagram
Even though the 2016 Olympic games are coming to a close this weekend, the party in Rio will never stop. Just ask these seven socialites, including blogger and entrepreneur Helena Bordon, who has almost 1 million followers on Instagram and whose mother is the current style director of Brazilian Vogue. Or her friends, Lu Tranchesi and former Victoria's Secret angel Ana Beatriz Barros, all of whom can often be found mingling at fashion events and traveling the world together. This summer, for example, Barros and her pals, including model Alessandra Ambrosio, jetted to her extravagant wedding in Mykonos to Greek-Egyptian millionaire Karim El Chiaty. And then later to model Isabeli Fontana's wedding to singer Diego Ferrero in the Maldives. The model, actress, and Brazil's Next Top Model host Fernanda Motta somehow made time to see the Rio games, too.
Many of these women have dabbled in modeling, blogging, and acting, but one thing they have in common is a huge social media following. "I'd love to be for Brazil what Miroslava Duma is for Russia," Bordon told Vogue. And when they're not jet setting to parties around the world, they're making a name for themselves in their home country. Get to know them below.
Who: Helena Bordon Handle: @helenabordon Why: Blogger and businesswoman; daughter of Donata Meirelles, the style director of Brazilian Vogue. Once rumored to have hooked up with Prince Harry.
Who: Caroline Celico Handle: @cacelico Why: Socialite and singer; married football player Kaká in 2005.
Who: Lala Rudge Handle: @lalatrussardirudge Why: Blogger and founder of La Rouge Belle.
Who: Ana Beatriz Barros Handle: @anabeatrizbarrosofficial Why: Former Victoria's Secret Angel.
Who: Patrícia Barros Handle: @patibarros Why: Model, actress, and sister of Ana Beatriz Barros.
Who: Lu Tranchesi Handle: @lutranchesi Why: Blogger, influencer, friend of Ana Beatriz Barros.
Who: Fernanda Motta Handle: @fernandamottaofficial Why: Model, actress, and host of Brazil's Next Top Model.
Watch W's most popular videos here: