Brexit: British Fashion Reacts to the E.U. Referendum
Designers like Jonathan Anderson are not taking the E.U. Referendum results lightly.
---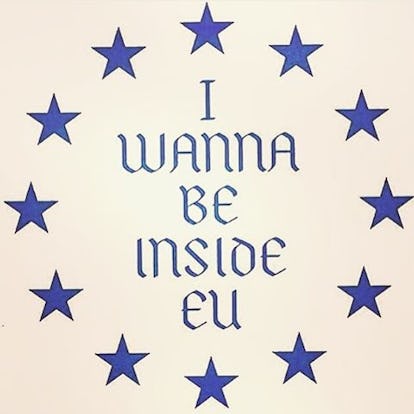 Though it was around 4 a.m. in the U.K. last night when Britain's exit from the European Union, otherwise known as Brexit, was announced, that didn't stop the immediate outpour of shock and outrage on social media. This was especially true in the British fashion sphere: While the overall results across England were a close 52-48%, the "Remain" campaign had an overwhelming majority in the capital, where the industry – not to mention the younger, more liberal voters – is based. Designers like Vivienne Westwood, Hussein Chalayan, and Burberry's Christopher Bailey, along with hundreds of other British creatives, have been campaigning against the move for months now, voicing economic concerns that have already been reflected in today's aftermath: Both the pound and stock prices have already plummeted, and France has already overtaken Britain's place as the world's fifth largest economy. Meanwhile, a petition's been circling the capital by the likes of Jonathan Anderson, who's been vocal with a steady stream of Instagrams, many with the hashtag "#sofuckedup". He's been posting photos from his spring 2017 Ibiza-inspired collection for Loewe, too, which he showed today, reportedly telling reporters, "It's nice to be in an imaginary place right now. It's probably the best place to be." See how more designers, models, and brands are reacting, here.
The Best British Street Style from London Collections Men Day 1