Jake Paltrow Talks 'De Palma' Documentary
Director Brian De Palma is the subject of a new documentary on his impressive oeuvre.
---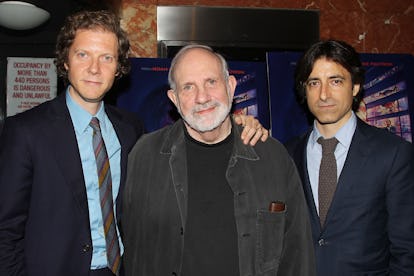 "So I guess I'm the warmup," said Martin Scorsese Thursday night at the Director's Guild of America theater on 57th Street. That Scorsese was anything less than the main event speaks to the man he was introducing: Brian De Palma. The director of Body Double, Scarface and Carrie, among many, many others, was getting his own film treatment with a documentary on his oeuvre by Noah Baumbach and Jake Paltrow.
Simply titled De Palma, the doc is a live motion version of the director's IMDb page, filmed as one long interview spliced with clips of his films. Though he was known for his bloody psychological thrillers (he was constantly combating the ratings board, often ending up with an X-rating), De Palma also had quite the reputation as a mentor—which is how his relationship with Baumbach (Frances Ha, Mistress America) and Paltrow first started. As well as with Scorsese: "Brian was the one who took my film, Who's That Knocking at my Door, and me seriously, and sort of became a mentor in a way, supporting me all the time—arguing usually—but supporting, guiding me. And the biggest thing, introducing me to everyone he knew in Hollywood," said Scorsese. "He would come in and help me edit Mean Streets; I was constantly having severe asthma bouts and he would come pick me up at the hospital, drive me home; he arranged for a mutual friend to introduce me to Rob DeNiro, which led to those films; he gave me the script to Taxi Driver."
Later, at an after party at The Russian Tea Room, Paltrow (yes, he's the brother of Gwyneth) spoke with W about meeting his mentor and the making of his third film, De Palma.
How did you first meet Brian? I was at a dinner with Joan [Juliet] Buck, she invited Taryn, my wife, and I to a dinner. And I had been a fan of Brian's for a long time, I didn't know Brian was going to be there. I was very nervous and at some point I introduced myself and I was finishing my first movie at the time. And I sort of laid it on him I guess, and I was going though and he was giving me advice. He really talked to me and took it seriously, and I left thinking "oh I probably just bothered Brian De Palma," and then the next day I got an email from Joan saying Brian would like to talk to you a little more about the things you're dealing with. And I couldn't believe it and I wrote him and our friendship started from there.
Do you remember the first Brian De Palma film you ever saw? It was Body Double, and I saw it on VHS. I wasn't allowed to see R-rated movies and I talked my parents into letting me see it because I was a big Hitchcock fan. And I said, "Oh, there's this movie by Brian De Palma,"—who they obviously knew and liked—"it's a little like Rear Window…" And then I was sort of scarred by it, I mean in a good way, it really stuck with me.
When did you first think that his story should become a documentary? Noah and I had all these dinners with Brian and at some point we were walking home from one of them and said if he were to talk to us on camera the way he talks to us at dinner, this is probably something pretty valuable to archive. So at first it was something we were doing selfishly to have for ourselves. And I think once we started filming and seeing him do it, on camera, we recognized it would probably be of value to others as well.
Were you nervous to ask him to participate? We thought let's just ask him to do it, if he says no, he says no. But he said yes right away. Within a week of him saying he would do it I think we were filming it. We were like, let's not let him change his mind.
Did you have to direct him at all? In a movie like this, the editing is the directing. The filming of it is just an extension of these conversations you're having at dinner. And trying to just maintain the same intimate thing where everybody feels comfortable [enough] to talk about things in a way you wouldn't with an interviewer.
And how did you and Noah meet? Noah and I met probably 12 years ago, not too long before I met Brian. And we had all these independent friendships that then merged. We met through a friend in LA and were sort of hanging out. Noah had known Brian for awhile and then I met Brian and we all just started spending a lot of time together.
Do you still spend a lot of time together? We have dinner every week. As long as we're all here, we seem to do it every week. We have one place we go to, but I think that one we should probably keep to ourselves. We all live within four blocks of each other so we keep it downtown.
Has Brian's directing influenced your own at all? More and more in a way. Brian's feeling about visual storytelling, and this idea of making these movies in a sort of visual way first has become a stronger influence now as I get older. Even though he's always been an influence, I think I understand what he's talking about better now than I did before. When he talks about the Hitchcockian visual story telling, it's related to that.
You and Noah are making films in a very different time movie business than Brian was working in. What's challenging about being a filmmaker today? I think it's probably always been challenging. I think the thing that was going on when Brian and his friends were making movies, was that the studio system for a moment really engaged in the way these guys were trying to make these movies – for a moment. And so the kind of movies that we associate now with being independent, [are not at] the top of the food chain in terms of financial support and distribution, and that is very difficult.
Photos: Jake Paltrow Talks 'De Palma' Documentary
Jake Paltrow, Brian De Palma and Noah Baumbach at a New York screening of "De Palma." Photo by Dave Allocca/Starpix.
Rebecca Romijn in De Palma's Femme Fatale, 2002. Photo by Etienne George/RDA/Getty Images.
Brian De Palma on the set of Mission Impossible, 1996. Photo by Murray Close/Getty Images.
Sissy Spacek in Brian De Palma's Carrie, 1976. Photo by Michael Ochs Archives/Getty Images.
Brian De Palma on the set of Mission to Mars, 2000. Photo by Getty Images.
John Travolta and Nancy Allen on the set of De Palma's Carrie, 1976. Photo by United Artists/Courtesy of Getty Images.
Nancy Allen in De Palma's Dressed To Kill, 1980. Photo by Silver Screen Collection/Getty Images.
Brian De Palma and Bruce Willis on the set of The Bonfire of the Vanities, 1990. Photo by The LIFE Picture Collection/Getty Images.