Brian Roettinger: Cover Star
The musician-turned-graphic designer dips his toes into fashion.
---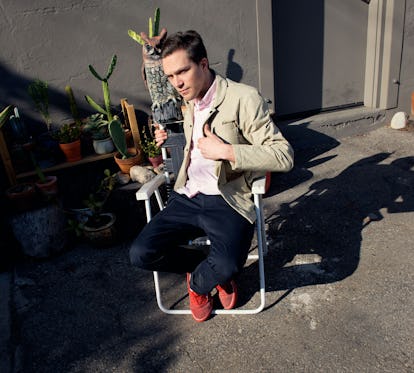 Before he became a Grammy-nominated graphic designer, Brian Roettinger was a musician himself. "I was putting out records, and the last step was always, 'What's this going to look like?' " he says. Having worked with the likes of Jay Z, St. Vincent, and Kim Gordon, Roettinger, 37, who lives in L.A., has lately been collaborating with fashion designers. He art-directed a shoot for the fall/winter 2014 Band of Outsiders lookbook and created the booklet invitations for Hedi Slimane's fall 2013 Saint Laurent show, using his own ink-on-paper artwork. "Those were all done by hand," he says of the smudged black and white abstractions. "But I also make things that are high-tech." For example, he produced software that uses an algorithm to auto-generate collages—which end up looking handmade. It's the same artisanal feel he brings to Junk, the arty magazine he started with the stylist Imogene Barron and the illustrator Lucy Rose. "We wanted to produce something that emphasized our love for beautifully printed objects," Roettinger says.