Brie Larson, Jennifer Lawrence and Emma Stone Are In the Ultimate Group Text
It also includes Lena Dunham and Amy Schumer.
---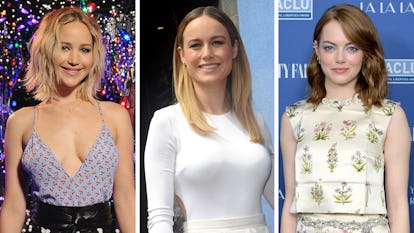 Composite. Getty Images
Emma Stone and Jennifer Lawrence became friends by texting each other every day until they got drunk on cheap wine together, and it turns out they include Brie Larson, too.
Larson spoke with Vanity Fair for its May issue about her friendships with the other A-list actresses, revealing that the trio has become each other's support system through a group text—which also happens to include Lena Dunham and Amy Schumer. (It keeps getting better.)
The actress explained that she began to rely on the women during the grueling and uncomfortable process of promoting her Oscar-winning work in Room. "I felt lonely and bad sometimes. I was embarrassed to keep talking about myself," she said.
An unexpected but "beautiful" email from Stone and a text from Lawrence, turned into powerful relationships.
"That [group of friends] saved my life," she said. "I was able to talk with them about everything that was going on in my life, and it was with people who had been through it before and are also hilarious. That support and acceptance was everything. I was home-schooled, so I didn't have friends that had the same interests as me, and I found it to be absolutely incredible."
This isn't the first time Larson has gushed about her celebrity comrades. After the 2017 Academy Awards, Larson posted a picture to Instagram of her embracing a tearful Stone. But the duo's cute Oscars behavior extends back even farther than this year. Larson revealed to Vanity Fair that last year, when she was nominated, Stone gave her a good luck card alongside a gift: the book I Can Fly.
"It's those little things," Larson said of Stone's gesture.
Larson also opened up about getting to know Lawrence, whom she met through costar Woody Harrelson, who had likewise introduced Stone and Lawrence. Larson explained that she and Lawrence happened to be in Montreal at the same time, and hung out every week.
"We just had a blast together, going to get dinner every Saturday night. It gave us all a chance to connect," Larson said.
Harrelson also praised the group of actresses, calling them "a very tight-knit group who keep them honest and keep their ego in check."
And with Larson recently snagging the coveted titular role in Captain Marvel—the first female-led Marvel superhero film—it seems Larson will be needing those friends by her side more than ever. After all, every superhero needs her sidekicks.
Read more about Larson's upcoming films and her friendships on vanityfair.com, and pick up the May issue on newsstands starting May 2.
Related: Emma Stone and Jennifer Lawrence Became Friends in the Most Millennial Way
Brie Larson Ran from Boulders at Her Indiana Jones Themed Birthday Party:
How Brie Larson Grew Into Her Oscar-Worthy Style on the Red Carpet
Actress Brie Larsen holds up her boxing glove purse at the premiere of the film "Crossroads" February 11, 2002 in Hollywood, CA.

Getty Images
Brie Larson at the Sleepover" World Premiere in Hollywood, California.

WireImage
Actress Brie Larson attends Popstar! Magazine's album release party for Jesse McCartney's new CD "Beautiful Soul" on September 17, 2004.

Getty Images
Brie Larson at a screening of "Hoot" in Los Angeles, California.

WireImage for Giffoni Hollywood
Brie Larson arrives at the premiere of Showtime's "United States of Tara" in Los Angeles, California.

Getty Images
Brie Larson arriving for the premiere of "Scott Pilgrim Vs The World" at the Odeon.

UK Press via Getty Images
Larson arrives at the Premiere of Columbia Pictures' "21 Jump Street."

WireImage
Larson attends the "Short Term 12" premiere at The Museum of Modern Art in a black dress with white accessories.

Getty Images
Brie Larson wore a sparkly sheath dress to the premiere of A24's "Room" at Pacific Design Center on October 13, 2015.

FilmMagic
Brie Larson attends the New York premiere of 'Trainwreck' at Alice Tully Hall, Lincoln Center on July 14, 2015 in a color-blocked, one-shoulder dress.

Barcroft Media via Getty Images
Brie Larson, winner of the award for Best Actress in a Leading Role for 'Room,' poses in the press room during the 88th Annual Academy Awards.

FilmMagic
Brie Larson seen at the SNL afterparty on May 7, 2016 in New York City.

GC Images
Brie Larson attends the Warner Bros. Presentation during Comic-Con International 2016.

Getty Images
Brie Larson announced as Captain Marvel/Carol Danvers at the San Diego Comic-Con International 2016 Marvel Panel.

Getty Images for Disney
Brie Larson attends the world premiere of "Free Fire" during the 2016 Toronto International Film Festival.

FilmMagic
Brie Larson wears Oscar de la Renta to the 89th Annual Academy Awards at Hollywood & Highland Center on February 26, 2017 in Hollywood, California.

Steve Granitz/Getty Images
Brie Larson attends the European premiere Of "Kong: Skull Island" on February 28, 2017 in London, United Kingdom.

Getty
Brie Larson arrives for the Premiere of Warner Bros. Pictures' 'Kong: Skull Island' at Dolby Theatre on March 8, 2017 in Hollywood, California.

Getty
Brie Larson attends "Rei Kawakubo/Commes Des Garcons: Art of the In-Between", the 2017 Costume Institute Benefit at Metropolitan Museum of Art on May 1, 2017 in New York City.

Getty
Brie Larson attends the premiere of A24's 'Free Fire' at ArcLight Hollywood on April 13, 2017 in Hollywood, California.

Getty
Brie Larsen attends the Christian Dior Cruise 2018 Runway Show at the Upper Las Virgenes Canyon Open Space Preserve on May 11, 2017 in Santa Monica, California.

Getty
Brie Larson attends the Valentino Haute Couture Fall/Winter 2017-2018 show as part of Paris Fashion Week on July 5, 2017 in Paris, France.

Getty
Brie Larson attends "The Glass Castle" New York screening at SVA Theatre on August 9, 2017 in New York City.

Getty