Brie Larson Prompts Fans to Envision a Better World Via Twitter
"I want to live in a world where…"
---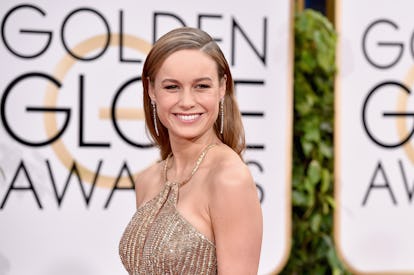 John Shearer/Getty Images
"Finish this sentence: 'I want to live in a world where…'"
Actress Brie Larson posted the uplifting prompt on Twitter Wednesday, encouraging her fans to share their visions for a better world. The request was simple, and the answers were varied—and there were many of them. As of Friday afternoon, over 1,600 people had replied.
Larson, who has made her disdain for Donald Trump clear on multiple occasions, retweeted some of her favorite responses, some of which were in clear opposition to his administration's policies. "Facts matter," read one response. "Where Earth is respected and protected," read another. "Bisexuality is seen as valid and not greedy and indecisive," said one more. Larson did not answer the prompt herself, but she did tweet her support for Planned Parenthood the same day.
Although most of the responses were positive, Larson stepped in when one interloping bro tried to diminish a young woman's claim that her schoolmates objectify and sexualize her. "I am not treated like an object and sexualised by my peers at school just because I am a girl," read one response. "That doesn't happen in today's world women are the most privileged in today's world stop with this s—," responded a man. "Quick reminder that a woman expressing their struggles in life doesn't diminish yours as a man," Larson responded. "My dude, if you want a better world for yourself as a man, it starts with basic respect for other people," she continued.
Larson has made bold political statements in the past, from seemingly refusing to applaud Casey Affleck when she presented him with the Oscar for Best Actor to wearing red on International Women's Day in support of A Day Without a Woman, a movement organized by the team behind the Women's March.
Here, some more inspiring responses that Brie Larson retweeted.
Watch: Brie Larson Watches Her Favorite Love Story On Loop:
How Brie Larson Grew Into Her Oscar-Worthy Style on the Red Carpet
Actress Brie Larsen holds up her boxing glove purse at the premiere of the film "Crossroads" February 11, 2002 in Hollywood, CA.

Getty Images
Brie Larson at the Sleepover" World Premiere in Hollywood, California.

WireImage
Actress Brie Larson attends Popstar! Magazine's album release party for Jesse McCartney's new CD "Beautiful Soul" on September 17, 2004.

Getty Images
Brie Larson at a screening of "Hoot" in Los Angeles, California.

WireImage for Giffoni Hollywood
Brie Larson arrives at the premiere of Showtime's "United States of Tara" in Los Angeles, California.

Getty Images
Brie Larson arriving for the premiere of "Scott Pilgrim Vs The World" at the Odeon.

UK Press via Getty Images
Larson arrives at the Premiere of Columbia Pictures' "21 Jump Street."

WireImage
Larson attends the "Short Term 12" premiere at The Museum of Modern Art in a black dress with white accessories.

Getty Images
Brie Larson wore a sparkly sheath dress to the premiere of A24's "Room" at Pacific Design Center on October 13, 2015.

FilmMagic
Brie Larson attends the New York premiere of 'Trainwreck' at Alice Tully Hall, Lincoln Center on July 14, 2015 in a color-blocked, one-shoulder dress.

Barcroft Media via Getty Images
Brie Larson, winner of the award for Best Actress in a Leading Role for 'Room,' poses in the press room during the 88th Annual Academy Awards.

FilmMagic
Brie Larson seen at the SNL afterparty on May 7, 2016 in New York City.

GC Images
Brie Larson attends the Warner Bros. Presentation during Comic-Con International 2016.

Getty Images
Brie Larson announced as Captain Marvel/Carol Danvers at the San Diego Comic-Con International 2016 Marvel Panel.

Getty Images for Disney
Brie Larson attends the world premiere of "Free Fire" during the 2016 Toronto International Film Festival.

FilmMagic
Brie Larson wears Oscar de la Renta to the 89th Annual Academy Awards at Hollywood & Highland Center on February 26, 2017 in Hollywood, California.

Steve Granitz/Getty Images
Brie Larson attends the European premiere Of "Kong: Skull Island" on February 28, 2017 in London, United Kingdom.

Getty
Brie Larson arrives for the Premiere of Warner Bros. Pictures' 'Kong: Skull Island' at Dolby Theatre on March 8, 2017 in Hollywood, California.

Getty
Brie Larson attends "Rei Kawakubo/Commes Des Garcons: Art of the In-Between", the 2017 Costume Institute Benefit at Metropolitan Museum of Art on May 1, 2017 in New York City.

Getty
Brie Larson attends the premiere of A24's 'Free Fire' at ArcLight Hollywood on April 13, 2017 in Hollywood, California.

Getty
Brie Larsen attends the Christian Dior Cruise 2018 Runway Show at the Upper Las Virgenes Canyon Open Space Preserve on May 11, 2017 in Santa Monica, California.

Getty
Brie Larson attends the Valentino Haute Couture Fall/Winter 2017-2018 show as part of Paris Fashion Week on July 5, 2017 in Paris, France.

Getty
Brie Larson attends "The Glass Castle" New York screening at SVA Theatre on August 9, 2017 in New York City.

Getty