British Royals Cancel Tour, Finally Get Real About the Coronavirus Threat
Charles and Camilla are now staying home.
---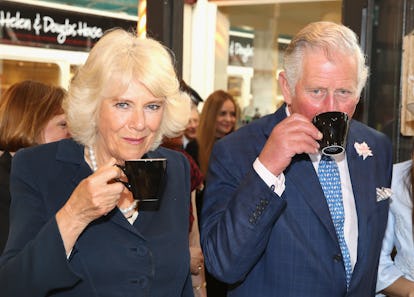 Chris Jackson – WPA Pool/Getty Images
The archduke of Austria has caught coronavirus. The king and queen of Spain are awaiting test results. The British royal family? Well, last night Prince Charles was spotted red-faced and mingling at a packed dinner for Australian Bushfire relief. As of yesterday, the House of Windsor had been going on about "business as usual," with Queen Elizabeth even offering a very publicly shake hands sans gloves. This as other European royal families had cancelled trips or major events.
Now, the royal Brits are starting to rethink things.
Prince Charles and Camilla, Duchess of Cornwall, have called off an international tour of three countries slated for later this month. On March 17, Charles was slated to start a jaunt that would find them visiting Bosnia and Herzegovina, Jordan, and the Republic of Cyprus. Camilla was expected to join him midway through. Now it's off.
"Owing to the unfolding situation with the coronavirus pandemic, the British Government has asked their Royal Highnesses to postpone their spring tour to Bosnia and Herzegovina, Cyprus, and Jordan," read an official statement.
But People reports that Charles and Camilla are looking for ways to keep up some royal duties domestically, including making appearances at small gatherings.
Queen Elizabeth has also cancelled visits to Cheshire and Camden.
International diplomacy has been a perhaps not-too-surprising spreading agent of COVID-19. King Felipe and Queen Letizia of Spain underwent testing after a Spanish government official they had met with earlier in the week caught the virus. If the royal couple tested positive, that would cause concern for French president Emmanuel Macron and his wife, Brigitte, whom the king and queen had met with recently.
Meanwhile, the delegation traveling with Brazilian president Jair Bolsonaro seems to have spread the virus while visiting America. Bolsonaro's communications director, Fabio Wajngarten, who met with several American officials, has tested positive for the virus. The mayor of Miami, Francis Suarez, has now tested positive after meeting with the delegation, and conflicting reports have emerged this morning as to whether or not Bolsonaro himself has contracted the virus.
President Trump also met with Bolsonaro and Wajngarten during their trip, but so far the White House has indicated that the President will not be tested. CNN, however, now reports that there are staffers in the White House strongly urging the president to get tested.
Related: European Royals Feel the Effects of the Coronavirus