Front Row Chatter
In case you missed them, here are the top style news stories of the week.
---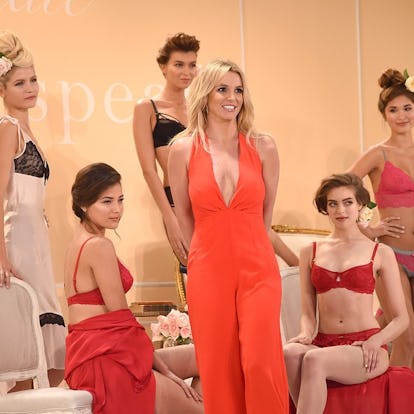 Apple Debuts a smart watch. Drops the i.
Beckham, David Loves Beyonce and Jay Z so much he got a song lyric tattooed on his forearm. Now that's commitment, guys.
Bochert, Jamie Is the new face, er rear end, of BLK DNM's new campaign.
Copping, Peter The Nina Ricci designer may be taking the reins in the house de la Renta built.
Cyrus, Miley Debuts a jewelry collection titled Dirty Hippie at Jeremy Scott's Spring 2015 show.
Gucci, Guccio The fashion heir house arrested for fraud. At least it's not for counterfeiting.
Guinness, Lulu The handbag designer celebrates 25 years of creating quirky, winking purses with a smile.
Jacobs, Marc Sent models at his Spring 2015 show down the runway in choppy black wigs, zero makeup.
Jonze, Spike Co-wrote a play with Jonah Hill for Opening Ceremony's spring 2015 presentation about the dark side of modeling. Still managed to make us laugh.
Lamy, Michelle Launches a jewelry collection with Loree Rodkin. Did not construct a 25-foot-tall sculpture of herself for the launch.
Lewis, Juliette Wins #tbt forever by admitting that she wore Brad Pitt's old shirts on the red carpet when they were dating.
Middleton, Kate Is pregnant again. By George!
Peters, Bernadette Sat in the front row at Donna Karan's Spring 2015 show next to Hugh Jackman's wife Deborra Lee Furness talking non-stop.
Pinkett Smith, Jada Brought her mom to New York Fashion Week. Kept it nice and quiet.
Twitter Launches a "Buy" button to enable e-commerce. Take that, Instagram.
Spears, Britney Presented her lingerie collection at New York Fashion Week. And the room was silent.