Why Britney Spears's Pepsi Commercials Were Perfection, and How Kendall Jenner's Went So Wrong
Admist the short-lived Kendall Jenner commercial controversy, a look back at the soda powerhouse at it's pop-star best.
---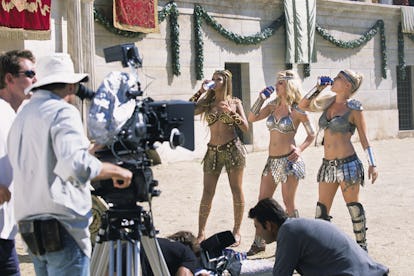 John Gichigi
On Tuesday, a two-minute commercial almost imploded Twitter. The culprit? As with most controversies social-media related, a Kardashian–specifically, Kendall Jenner–and, more implicitly, Pepsi. Just a few days after announcing that Jenner would be the star of the soda brand's newest commercial, following in the footsteps of supermodel Cindy Crawford, the brand premiered the problematic clip.
In the now infamous video, titled "Live For Now Moments Anthem," Jenner is seen preening during a photoshoot, before noticing a rather cheerful protest and promptly ripping off her blonde wig to join in. There, she grabs a nearby can of Pepsi and handing it to a police officer monitoring the scene. The entire crowd, law enforcement and all, erupts in cheers; tension dissipated thanks to carbonation, sugar syrup, and a Jenner.
Now, to say the least, the brand's attempt at bringing levity to some very significant social issues did not go over well. The ad was thoughtfully criticized around the internet (in Rolling Stone, The Independent, The Daily Beast, which declared the clip "least woke," and more) and, less than 24 hours, and countless negative tweets after the initial premiere, Pepsi took down the video.
The parallels in what went wrong are obvious: political protests are not light fodder to be co-opted by soda commercials. The advertising component should be just like the product; in this case, effervescent instant gratification–something that Pepsi, itself, has nailed in the past.
Let's go back to 2001. _Sex and the City i_s the biggest show on television, the first Harry Potter film has just hit theaters, and Britney Spears is queen of the world, in her snake-bearing, hip-gyrating, "I'm A Slave 4 U" prime. Pepsi, wisely, offers her a promotional deal estimated to be in the $7-8 million range.
As the Baltimore Ravens took on the New York Giants in Super Bowl XXXV, Pepsi dropped its first Britney-led ad. The 90 second-long spot (for context, a 30 second commercial cost $2,200,000 that year) began with the pop star in a Pepsi warehouse wearing a branded jumpsuit and baseball cap. That quickly comes off, revealing a pair of deconstructed flare jeans and white crop-top, as Spears launches into an original song that mixes her breath-y buoyancy with the soda's classic jingle. As a choreographed dance montage takes place, of course, you get a little bit for everything. Look at those abs, she's sexy! Look at that goofy grin, she's fun! Look at her slightly-on-purpose flub a move, she's just like us! Not to mention, the song was impossibly catchy.
The next mega-hit came just months later. Now firmly past the threat of any Y2K apocalypse, the brand decided to embrace the new millennium, as well as honor the past. The video shows a Spears for every decade from the 1950s on; starting off black-and-white in a soda shoppe, performing at a '60s sockhop and hitting a technicolor beach party, embracing the flowerchild nature of the '70s (alongside a young Jamie Lynn Spears for the eagle-eyed viewer), etc.
We end on Spears breaking it down outside a drive-in (still retro!) to yet another original, Pepsi-themed song. Armed with a trove of back-up dancers and a new white crop-top, the singer pops and locks amidst the glow of a neon Pepsi logo. The clip flashes back to the Britneys-through-the-decades, also partaking in the very 2001 choreography, before ending with current day Spears swigging from a can and winking at the camera. An instant classic.
But perhaps nothing is as iconic as her final commercial, which brought in two fellow pop luminaries (three, if you count Enrique Iglesias): Beyoncé and Pink. Airing three years after her first ad, the clip aired during the 2004 Super Bowl, coming in at a whopping three minutes (by that point, 30 second spots had gone up to $2,302,200). A commercial of epic standards, the scene opens in Ancient Rome, where three beautiful gladiators (Spears, Beyoncé, and Pink, dressed in their finest, strategically placed armor) are being brought out to fight for the amusement of Iglesias, doing his best Julius Caesar by way of King Joffrey.
As they met in the center of the colosseum, all three throw down their weapons and instead turn to the crowd to perform a rousing, feet-stomping rendition of Queen's "We Will Rock You." It's ninety seconds of pure girl power, not to mention some undeniably beautiful cinematography (i.e., if you get goosebumps when watching, you would not be alone).
It is, in a word, iconic, and a truly fitting end to Spears' reign of the soda commercial scene–and one that was decidedly more fitting for the world of Pepsi.
Related: Actresses Priyanka Chopra and Jodie Foster Reinterpret "Toxic" by Britney Spears