Night at the Museum
The shiny new Broad Museum opens with an A-list party in Los Angeles.
---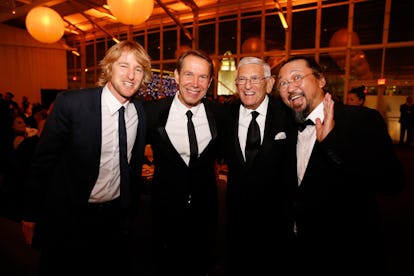 "Los Angeles, as you know, is a home of great artists," says Eli Broad, the billionaire philanthropist behind the dazzling new Broad Museum in Downtown Los Angeles. On Thursday night, those great artists appeared in droves—L.A. legends John Baldessari and Ed Ruscha among them—along with the Hollywood set, and 800-or-so other guests in black tie and floor-length gowns, to inaugurate the new space with a proper party.
At the museum, which the city's mayor Eric Garcetti has dubbed the "crown atop the hill," the VIPs got an early start on what the public certainly will do at official opening on Sunday—that is, pose for selfies with the extraordinary, large-scale artworks. The two gallery floors brim with Instagrammable options: Yayoi Kusama's famous "Infinity Room," a mirrored chamber filled with twinkling LEDs on the ground floor, or, up the three-story escalator in a massive, skylit gallery, the reflective surfaces of Jeff Koons's iconic "Blue Dog." We spotted Owen Wilson posing with the artist, Mark Bradford engaged in an intimate conversation with Gwyneth Paltrow, and selfie-fanatic Takashi Murakami taking the opportunity to capture himself with Koons's porcelain sculpture of Michael Jackson. If you're counting at home, that's three Pop stars in one.
Photos: Night at the Museum
Owen Wilson, Jeff Koons, Founder Eli Broad, and Takashi Murakami. Photo by Nicholas Gingold/Capture Imaging
Todd Morgan and Rosanna Arquette. Photo by Nicholas Gingold/Capture Imaging
Mark Bradford and Gwyneth Paltrow. Photo by Nicholas Gingold/Capture Imaging
Ed Ruscha and Danna Ruscha. Photo by Nicholas Gingold/Capture Imaging
MOCA Director Philippe Vergne and Eli Broad. Photo by Nicholas Gingold/Capture Imaging
Eva and Broad Board of Governors member Michael Chow. Photo by Nicholas Gingold/Capture Imaging
Tacita Dean, Julie Mehretu, Mark Bradford, and Thomas Demand. Photo by Nicholas Gingold/Capture Imaging
Founding Director Joanne Heyler and Damien Hirst. Photo by Nicholas Gingold/Capture Imaging
Amy Wakeland and Los Angeles Mayor Eric Garcetti. Photo by Nicholas Gingold/Capture Imaging
Julian Schnabel, Katherine Ross, and LACMA Director Michael Govan. Photo by Nicholas Gingold/Capture Imaging
Kate Burton and CTG Artist Director Michael Ritchie. Photo by Nicholas Gingold/Capture Imaging
Brandon Davis and Barbara Davis. Photo by Nicholas Gingold/Capture Imaging
President of the Board of Trustees MOMA Josée Kravis and Henry Kravis. Photo by Nicholas Gingold/Capture Imaging
Elizabeth Diller and Frank Gehry. Photo by Nicholas Gingold/Capture Imaging
Catherine Opie and Julie Burleigh. Photo by Nicholas Gingold/Capture Imaging
Leonard Lauder and Judith Glickman. Photo by Nicholas Gingold/Capture Imaging
Sterling Ruby and Melanie Schiff. Photo by Nicholas Gingold/Capture Imaging
Thelma Golden and Glenn Ligon. Photo by Nicholas Gingold/Capture Imaging
Lynda and Stewart Resnick. Photo by Nicholas Gingold/Capture Imaging
Iris Cantor and John Desiderio. Photo by Nicholas Gingold/Capture Imaging
John Currin and Rachel Feinstein. Photo by Nicholas Gingold/Capture Imaging
Benedikt Taschen and Lauren Taschen. Photo by Nicholas Gingold/Capture Imaging
Sidney Felsem and Joani Moisant Weyl. Photo by Nicholas Gingold/Capture Imaging
The 50 piece orchestra during the Inaugural Dinner. Photo by Nicholas Gingold/Capture Imaging