The Ultimate Holiday Pop-Up
We're thanking the holiday gods for the utterly unique new pop-up shop from party planner extraordinaire Bronson van Wyck.
---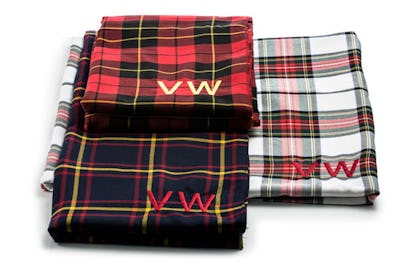 It's that time of year when every store rolls out the holiday wares, and those impersonal Christmas shops (that somehow manage to actually be black holes of holiday cheer) lure shoppers with generic ornaments and faux trees. So we're thanking the holiday gods for the utterly unique new pop-up shop from party planner extraordinaire Bronson van Wyck.
Opening this Friday, van Wyck, who has worked with everyone from President Obama and Martha Stewart to Daphne Guinness and Chanel, is opening the doors on a retail wonderland worthy of his elite clientele. The space will be a one-stop shop for holiday presents and décor with a selection of antique finds, bespoke holiday decorations, and gifts personally curated by van Wyck. "Some of these antiques are so unique, they're kind of perfect for crazy people," he says, mentioning an embroidered map of the world and George V Coronation plates as some particularly neat offerings. "I mean, if you've got someone who's really hard to get a gift for, you can find something, definitely."
Also of note are custom Tartan runners, overlays, and napkins available monogramed in 310 different patterns, a selection of antique and painted-egg ornaments, and even salad dressing. Really. Van Wyck began bottling his homemade dressings for friends and now offers several different varieties and a few drink mixers, and all profits go to Citymeals-on-Wheels.
Van Wyck, who received upwards of 60 requests for help with holiday decorations last season (and was only able to work with a very select group), is also offering his creative holiday touch through custom decorations available at the pop up. Customers can order made-to-measure wreaths and garlands of Magnolia leaves (inspired by van Wyck's grandmother's Arkansas farm) or a more traditional mix of juniper, pine, fir, and eucalyptus. But the piece de resistance is the white-glove Christmas tree service. Either a Blue Spruce or Douglass Fir tree is "braided" with lights in a special way which adds up to a whopping 4,000 lights on a ten-foot tree. So many lights, in fact, that it comes with a dimmer switch. The trees are then delivered and completely trimmed on premises. "It's ready-to-wear versus couture," he says. "That's what we're doing."
The Bronson van Wyck Holiday Pop-Up Shop runs from November 16 through January 3 at 19 Christopher Street (at Gay Street). Some items are also available for purchase at vanwyck.net.