Brother Vellies' Aurora James Just Wants Women to be Comfortable in their Shoes
The CFDA Award nominee talks inspiration, Africa, and those cult desert boots.
---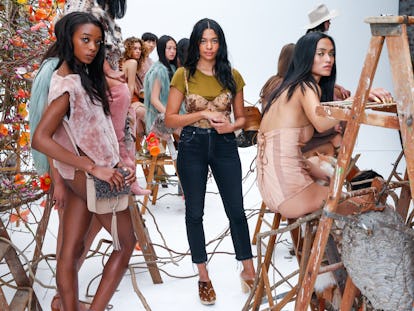 Aurora James, the creative director of accessories brand Brother Vellies, has had a swift rise to the top. Since launching her African-inspired footwear collection for Spring 2014, she's found success in making original, chic shoes that people want to wear – and in creating and sustaining artisanal jobs in Africa. Her fashion week presentations are as whimsical and buzzworthy as she is – a Kanye sighting one season, live butterflies the next – which has landed her a CFDA Award nomination this year. Here, James talks inspiration, Africa, and those cult desert boots.
Congratulations on your CFDA Award nomination! I was totally over the moon! I was on a plane about to take off when Steven [Kolb] called me and I just started screaming. Not the best place to scream, I assure you. Eek!
It's not your first time being recognized by the CFDA. You won the CFDA/Vogue Fashion Fund last year (alongside Jonathan Simkhai and Gypsy Sport). How did that impact your brand? Winning the CFDA/Vogue Fashion Fund was really incredible. We had momentum leading up to that but anything Anna Wintour endorses really just catapults things to the next level.
How did you get your start in fashion? I was a big shopper of my Mum's closet.
What was your particular interest in footwear? I was inspired by the shoes that were being handmade all over Africa. I thought the artisans were incredible and a lot of the skill sets being displayed on the ground there were at a couture level. I wanted to provide a stable income for these people and help them share the craft with others locally as a means to create work.
Why is Africa important to you? I think Africa should be important to all of us. We are all connected this is one planet, we have a responsibility to each other. Brooklyn is equally as important to me. It's about living every day in a way that makes you feel that you are contributing positively. Or at least not causing harm.
Do you find inspiration from your travels? Yes, I am inspired by all of the people, places, things and animals I have never yet met. I'm in love with everyone and no one in particular at all times.
What were the main pieces you started Brother Vellies with? Desert boots, made with vegetable dyed leather. The first year our business was predominantly male-focused.
What style do you find is still popular with your customer? Our desert boots for sure. The Dhara and Babouche sandals are really taking off this season, we've had a hard time keeping those in stock and our handbags are doing extremely well.
Let's talk Fall 2016. Where did you get started, and what did you want to communicate? I spent time in the Omo Valley [in Ethiopia] and was very inspired by how they used the elements around them to piece together their outfits, homes and decorations. The women communicate inter-tribally in so many different and abstract ways. The collection is called The Language of Flowers. I wanted to communicate that the best connection doesn't involve words but getting back to nature and love instead. ____
The actual presentation, which featured live butterflies, was stunning. How did it all come together? A lot of research on the monarch butterfly trail and pattern of migration. And talking to the models a lot during the casting process to find out who they were. I knew that didn't matter to the audience but for me I wanted to cast a broad spectrum of different female energy to radiate as one.
Two seasons ago, Kanye West attended your show. How did that happen? Kanye is as Kanye does I guess!
What accessories trends are you seeing among women right now? I need women to be comfortable in their shoes. I love an element of whimsy, femininity and playfulness in shoes. I think there is a huge trend towards being able to throw on jeans and a t-shirt with an epic shoe and have that be the outfit.
Talk about your plans for the future. What's next? I would love to open more stores. I enjoy creating physical environments. My focus is really just on continuing to dream with my eyes open. I think in the future anything is possible.
Photos: Brother Vellies' Aurora James Just Wants Women to be Comfortable in their Shoes
Aurora James. Photo by David X Prutting/BFA.com.
Aurora James. Photo by Jason Eric Hardwick.
Brother Vellies, $380, matchesfashion.com.
Brother Vellies, $745, nordstrom.com.
Brother Vellies, $584, bonadrag.com.