Bruce Springsteen's Daughter Jessica Exudes Equestrian Chic
Both in the saddle and out.
---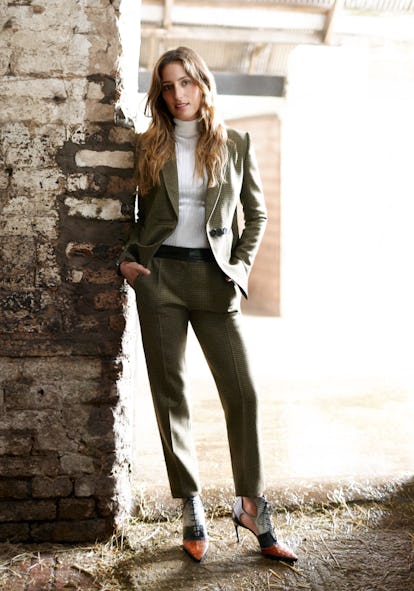 Photograph by Rory Van Millingen, Styled by Hanna Kelifa, Edited by Sam Milner; Makeup by Ozzy Salvatierra at Streeters; Hair by Brent Lawler for Rene Furterer at Streeters; Photography assistant: Jo Cook; fashion assistant: Zsofia Farkas
As an internationally ranked professional equestrian, Jessica Springsteen can make steering one of her four horses through complex Grand Prix courses look like a breeze—most of the time, anyway. "I'll see pictures of myself and go, 'Why do I look so angry?' " says ­Springsteen, 24, with a laugh. "When you're in the moment and trying to make things work, you kind of just lose control."
The daughter of the musicians Bruce ­Springsteen and Patti Scialfa, Jessica, who grew up on a farm in New Jersey, spent much of her childhood tagging along on her parents' tours. Since becoming a competitive rider, "there's been a role reversal," she says, noting that her mom and dad have become horse show groupies.
And it's quite the schedule. The Duke University graduate, who in 2014 was part of the winning American team at the ­International Federation for Equestrian Sports (FEI) Nations Cup, in Dublin, goes from winters training in Florida to shows around the world on the Global Champions Tour. She'll compete in the Masters of Los Angeles this fall and hopes to qualify for the 2017 FEI World Cup finals. But in a sport that values age and experience over youth—top riders are often in their 40s and 50s—Springsteen has the luxury of taking the long view. "Riding is something you can never really master," she says. "You're always learning something new."
How to Dress Like Equestrian Jessica Springsteen
Vintage fob pendant from A. Brandt + Son, Narberth, Pennsylvania.

Photograph by Tim Hout, styled by John Olson
Brunello Cucinelli blouse.

Photograph by Tim Hout, styled by John Olson
Photograph by Tim Hout, styled by John Olson
Photograph by Tim Hout, styled by John Olson
Photograph by Tim Hout, styled by John Olson
Photograph by Tim Hout, styled by John Olson
Photograph by Tim Hout, styled by John Olson
Watch W's most popular videos here: