When Bruce Weber Met Agnès B.
An early, never before seen cache of photographs by Bruce Weber, seen exclusively here in W, sees the master photographer finding his voice. In an interview, Agnès Troublé reminisces about her old friend.
---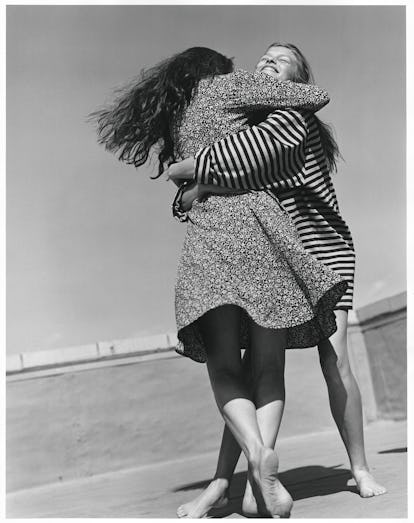 In 1983, settling into a reputation as the premier photographer of the male form in fashion, Bruce Weber went to the agnès b. store in SoHo to borrow some clothes for a shoot out in Montauk.
This was before the Pirelli calendars and Kate Moss and a skirt-clad Jaden Smith, so he wasn't so much the Bruce Weber yet, but Bruce Weber enough (he had already shot a handful of now iconic Calvin Klein campaigns) that Agnès Troublé, who had been designing simple, perfectly déshabillé clothes under the agnès b. name for only a few years, and who had her own affinity for art photography, readily agreed to lend out her inventory.
"Agnès and I had just become friends, so she gave me a small suitcase filled with clothes and told me to go out and see what I could discover," Weber recalled recently.
What he found is documented in 70 black and white prints that have never been reproduced or released until today, when they go on view at agnès b.'s Howard Street, Flatiron, and Madison Avenue locations in New York as part of a series of events marking the label's 40th anniversary.
"After all of these years, both Agnès and I are still proud of these pictures," Weber continued.
"It was for him, for me; it was not for a magazine," Troublé said from her studio in Paris. "It was a present to me, I think, because he loved my work, and I love his pictures. Just to show his own vision of my clothes, mixing them together in his own way."
Shot early in his career while he was living at the film director and Warhol Factory acolyte Paul Morrissey's house, all the hallmarks of Weber's aesthetic are available: the breezy naturalism, the unplaced nostalgia, the grace of the black and white. You can imagine the young men and women Weber photographed, having gotten hold of someone's old truck and driven out east on Long Island for the day, pulling over at the first sign of high grass. The images are kinetic but also wistful, their subjects' faces obscured by their own wind-whipped hair, Weber distilling the clothing's Gallic, Nouvelle Vague affect through a wholly American sieve; they can be easily mistaken for stills from some lost Louis Malle film—Zazie dans Fire Island.
"Bruce loved to take people away and take pictures," Troublé said. "He knows about freedom."
The images Weber sent to Troublé were not the end of their relationship. A few years later, when Weber began work on his gauzy 1988 documentary Let's Get Lost, on the jazz trumpeter Chet Baker, he called Troublé and she designed the musician's wardrobe for the production.
"I went to Cannes, to Venice with them, Chet and Bruce," Troublé said. "It was an experience, and I loved it. And I loved Chet Baker. I was at his last concert, a month before he died. He was wearing my black blouson jacket. And he was looking at me very softly with his eyes."
Troublé has lots of stories like this; how, for example, she met Ryan McGinley "at a party downtown in a weird apartment only with candles, and he showed me ten pictures from his pocket," which led to her being one of the first to exhibit his photographs. She has a dual reputation as a patron of the arts, especially in New York, counting downtown darlings like Larry Clark, and Harmony Korine as friends.
What's particularly striking in viewing these images today is how timeless they are. If you didn't know they were the result of a quiet trip to the beach in the early '80s, they could easily make up a magazine editorial next month. Troublé takes a bit of credit for that. "Fashion is very fast, and it gets unfashionable very quick," she said. "So I prefer forever clothes, and that's what you can see in the photos. I think."
You can also see what John Duka, who wrote the "Notes on Fashion" column for the New York Times in the 1980s, described as Weber's unfailing ability "to capture [his models] at moments of intense internal action."
"In some pictures, the girls look very beautiful," Troublé said. "And in some they are not looking into the camera. The eyes are away, and that was Bruce. They were not posing. He was watching them only, and taking pictures when it was right. I'm sure he didn't direct them so much. He let people go. He respects his subjects, and he loves them. You can see it."
Bruce Weber in 1983: An Exclusive, Never Before Seen Portfolio
Photo by Bruce Weber for Agnès B.
Photo by Bruce Weber for Agnès B.
Photo by Bruce Weber for Agnès B.
Photo by Bruce Weber for Agnès B.
Photo by Bruce Weber for Agnès B.
Photo by Bruce Weber for Agnès B.
Photo by Bruce Weber for Agnès B.
Photo by Bruce Weber for Agnès B.