Cartier's American Century
Trading a townhouse for a pearl necklace, Cartier USA was off and running.
---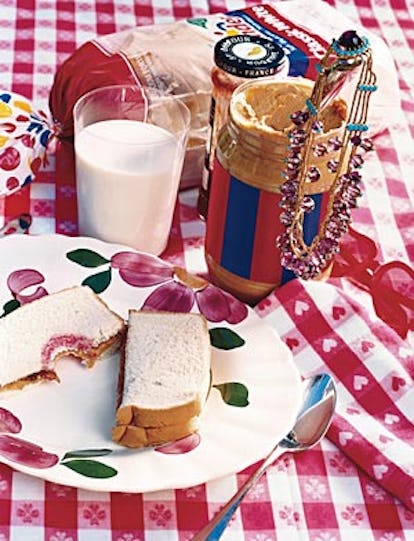 Would you barter the very place you lay your head for the bauble of your dreams? One Mrs. Morton Plant did exactly that in an exchange now deeply embedded in the lore of Cartier's presence in the United States. That shared history now dates back 100 years, a centennial the jeweler is celebrating through year's end with various festivities, including the publication of an exuberant tome edited by Bruce Weber. Cartier I Love You is a stream-of-consciousness compilation of photos, anecdotes, historical tidbits and musings that relate to Cartier either obviously—a film-strip series of a gleeful Elizabeth Taylor romping on the French Riviera with Mike Todd as he presents her with a dazzling suite of rubies; or less so—the shirt-sleeved Joseph P. Kennedy in his wheelchair surrounded by his 24 grandchildren at the family enclave, nary a carat in sight. As for that unusual housing transaction, Cartier opened in the U.S. in 1909 at 712 Fifth Avenue, where Maisie Plant, the wife of a shipping scion, often admired a stunning two-strand pearl necklace worth $1 million which, despite her husband's wealth, she insisted she could not afford. That is, until Pierre Cartier offered the exchange, throwing in $100 to close the deal. In 1917, Cartier took possession of the then Plant mansion at 653 Fifth on the corner of 52nd Street, where it has been ever since.
Cartier's anniversary book.
"We say, 'Cartier, Paris, London and New York,'" says Pierre Rainero, Cartier International's Heritage Director. "All three locations are very important to our soul." So, too, was producing a book that would properly capture its essence. "Bruce has that talent as a photographer to be very modern and to show at the same time permanent feelings, so that's one point. Second, Bruce is very much into American culture, and he knows how to express it in a very good way. I knew that he would understand what we were feeling [about] that specific link between America and Cartier."
Still, the proposal surprised Weber, given his personal penchant for dressing down and his work's decided lack of bling: "I don't even put jewelry on my dogs," he notes. Yet his photos are proudly, deliberately respectful and celebratory, rich with optimism and hope. After researching the Cartier family, Weber admired its members' creative invention, their commitment to artists and engagement in the politics of the day. He then thrust himself and members of his Little Bear Studio—it's run like a school newspaper, he delights in noting—into the house archives to learn about not only the spectacular merch, the glorious panthers, tutti fruttis, major statement pieces and occasional whimsy but also their raisons d'être. For example, the book includes a passage on Serge Gainsbourg, who, as a boy in Nazi-occupied France, affixed the mandated star marked with the word "Juif" to his clothes. Years later, he commissioned from the jeweler a big Jewish star in platinum. Also during the Occupation, Cartier worked the motif of a caged bird, its head lowered in sadness. After liberation came a joyful modification: the bird bursting forth from its cage, wings spread, ready to sing.
An emerald pendant steals the spotlight from a model's wing tattoos.
Weber and co. did their homework, ultimately including passages on a host of famous clients—not all of them American—some of whom had interested the photographer previously and some not. For example, he had known little about the Mexican actress Maria Felix and her association with Cartier, which was notable for her flamboyant choices. And he came to a deeper appreciation for the elegance of Grace Kelly. He includes odes as well to Brooke Astor, Doris Duke, Barbara Hutton, Jackie Kennedy, the Duchess of Windsor and Polish opera singer Ganna Walska. Gary Cooper, Rudolph Valentino and Muhammad Ali are all shown wearing watches, and there's a photo of General John Pershing, whom Cartier presented with a prototype of the Tank Watch, which was inspired by Renault's armored tanks. Entries on artists often feature Weber's own portraits, as he acknowledges, among others, Jean Cocteau, for whom the Trinity ring was created and who designed many pieces ultimately produced by Cartier; Salvador Dalí; Roy Lichtenstein, Francesco Clemente, Louise Bourgeois, Georgia O'Keeffe, Andrew Wyeth, Robert Rauschenberg, Balthus, Cy Twombly. As for Ed Ruscha, he's depicted, not in a Weber photo, but in his old wedding announcement, in which he's in bed with two women. The caption reads: "Ed Ruscha Says Goodbye to College Joys."
At least two dear friends of Weber's count among Cartier's dearest as well. The photographer lavishes attention on Taylor, including the Riveria series and a personal essay that starts with a shared meal at New York's Il Cantinori before recalling his youthful fascination with her. Just before his bar mitzvah, Weber called Taylor at the Desert Inn in Las Vegas from his home in Greensburg, Pennsylvania and was actually put through to her room, only to speak with her then-assistant, Mike Hanley. Miss Taylor, the audacious young caller learned, was unavailable, "watching Eddie's show tonight with Yul Brynner and then she's going out afterwards to a party somewhere with Sammy Davis, Jr. and his band." Weber writes that they later became friends and that, post 9/11, he took her unannounced to a New York city firehouse where she sat on the lap of a firefighter, "like a cheer­leader with her star quarterback from Notre Dame."
Weber gives considerable space, too, to the late C.Z. Guest. He calls her, "a woman who wasn't afraid to get her hands dirty. She was a woman who went out and worked. She was up at six in the morning exercising and then writing and then gardening and then doing charity work. I mean, she was a really useful person."
Boys in tiaras.
Yet the book is no grande-dame fest. To represent Cartier's current, younger clients, Weber engaged illustrator-cum-model Thalita McDonnell, who came up with a cartoon of 11 current tabloid fascinations, including Angelina, Gwyneth, Demi, Sienna and Katie Holmes, all with their names painted on their frocks, toasting the jeweler at a party under a banner reading, 'Happy Birthday Cartier." He opted not to show such au courant women in borrowed red-carpet regalia. "I was against using [those photos]. I just felt that they were not representative of what I felt Cartier was really about."
And yes, Weber did take many new photographs for the book. There's a moody photo of two young, latter-day Fitzgerald types wearing tiaras with their morning coats; TKTK wearing Gloria Swanson's platinum, diamond, and rock crystal cuffs; and Rainero's two favorites, both of the same little girl. In the first, she is all anticipation, waiting to be "crowned" with diamonds. (That one made the cover.) Inside, she grins with joy, the tiara in its rightful place on her head.
Some of the book's wittiest moments come in still life, not a medium for which Weber is known. "Sometimes, after working with people and animals for days on end, I like the idea of going to something you can push around a little more," he says. He thus has his way with a pair of emerald-eyed, diamond, gold and black enamel CK panther pins, thrusting them amongst a pile of little plastic muscle men: "I love the toy-ness of jewelry." And he demystifies the heiress-fashion editor Daisy Fellowes by using her amethyst-bead necklace as a flashy prop for a picnic spread of peanut butter and jelly.
Such approachability is one of the book's paradoxes, and hearkens back to Weber's first memories of Cartier. Despite his casual-guy disclaimer, the jeweler has intrigued him at least a little since his days at N.Y.U. Film School, when he was struck by the notion of possessing a rolling ring. Decked in torn jeans and a rock 'n' roll T-shirt, he entered the Plants' former residence, where he found a pleasant browsing experience, if not a ring he could swing at the moment. "No one's in love with me right now, so no one's going to give me one," he thought. "I better save up and get one myself." A year or so later, he bought the ring. "The thing I loved about Cartier was that anybody, anywhere could walk in and be treated with courtesy and respect," Weber recalls. "I loved that feeling that you could walk into a store and think, 'Oh my God. Someday…'"
Book: © Bruce Weber/Courtesy of Teneues publishing; Picnic: © Bruce Weber