A Place for Everything
Bruno Bischofberger has one of the world's best collections of art and design—and, thanks to his daughter and son-in-law, he now has somewhere to put it.
---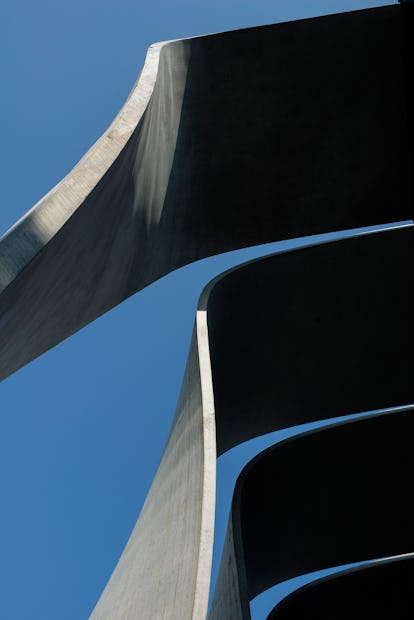 Say you have 400 decoratively painted wooden cabinets in your possession. Where do you put them? And what's to be done when you also own the world's most extensive private collection of furniture by Le Corbusier, Alvar Aalto, Frank Lloyd Wright, Eileen Gray, Jean Prouvé, and every other important modern and contemporary designer? You don't get much pleasure from keeping it all in storage, but one has room for only so many chairs in an Ettore Sottsass house.
Such were the problems facing the Swiss art dealer Bruno Bischofberger, a willful, even obsessive, collector for nearly all of his 75 years. To solve them, he started buying up the 250,000-square-foot campus of a former factory on the outskirts of Zurich. By 2005, he owned it all. That presented him with a new problem: how to reimagine enormous halls built for the manufacture of hydraulic lifts as suitable spaces for the storage and display of his countless, one-of-a kind holdings?
"It's natural to give a project like this to your daughter and son-in-law," Bischofberger says of his decision to hire Baier Bischofberger Architects, the 10-year-old Zurich firm established by Nina Baier-Bischofberger and her husband, Florian Baier. "Working with family, there's an inherent level of trust."
There's also a level of understanding. "My father is a hoarder," Baier-Bischofberger declares. "He always wants more, more, more." She and Baier have given him just that, by turning the factory site in suburban Männedorf into a spectacular complex with a dozen bespoke buildings surrounding a landscaped central plaza.
He could have had his pick of starchitects, but Bischofberger recognized that Nina, now 40 and the middle of his three daughters, is a can-do type. She apprenticed with Sottsass as a teenager and holds undergraduate degrees in both architecture and civil engineering from MIT. She and Baier also knew better than to design anything that would compete with the collections that Bischofberger has amassed with his wife, Christina (known as Yoyo). Among these are significant quantities of ceramic and glass sculptures (by the likes of Pablo Picasso, Joan Miró, and Lucio Fontana), several libraries' worth of books, and the best work from every artist he has represented, including Jasper Johns, Gerhard Richter, and Jean-Michel Basquiat. Still, his daughter recalls, "my father was so surprised when he came here, and said, 'But this is so beautiful!' " And he was just talking about a hallway.
Nonetheless, it is a very glamorous hallway, an incomparably serene white corridor traversing 16 storage rooms on the second story of an enormous poured-concrete building. Its ground-floor exhibition space opens to the interior square through a cathedral-like exterior colonnade formed by what Baier, 42, calls pappardelle—thin, flat, steel-reinforced pillars that twist as if they were coming out of a pasta machine. "We're playing on classic elements of architecture," Baier-Bischofberger says. "Mainly, we're trying to have fun."
The building connects through a stately passage to Noppenhalle, a magisterial exhibition hall, named for the nubby concrete protuberances aligned in an ornamental grid on its facade. In daylight, it resembles "petrified bubble wrap," as the architects like to think of it. Lit up at night, the knobs create the illusion of floating rings. "The idea," Baier explains, "was to make hard materials look soft, as a cushion for protecting something of value." Each of the five handsome buildings completed so far achieves that effect in a different way. A sinewy cast-concrete lattice weaves a wavy pattern over the glass outer walls of Bischofberger's gallery, which recently relocated from central Zurich. (Currently on view is a solo show of the Spanish artist Miquel Barceló.)
"In some ways, we're re-dressing the buildings," Baier-Bischofberger muses. "They all have a sort of textile feeling—waves, or noodles, or stretched metal," she says, indicating the perforated black exterior of a decorative-arts complex built on the footprint of four of the original factory sheds. In one of the structures, the architects created an intermediate floor for storage as well as a photo studio for documenting each object in the collection. But the "hairy" facade they had in mind for the design exhibition hall next door—an effect they planned to achieve with wire from scrub brushes—didn't pass muster with their exacting client. Instead, the building will be covered by overlapping, wave-shape upholstery springs. "When the Italian company we're working with heard we needed 20 meters of springs," the dry-witted Baier remembers, "they called to ask how big our sofa really was."
The rest of the compound includes buildings that are equally grand but also spare. An unadorned, cantilevered four-story concrete storage facility under construction will be, quite simply, massive. And yet it may not be enough. "The gallery people are very nervous that Bruno is taking off too much for exhibition space," Baier says. "That's because he wants to show all his stuff—and see it," Baier-Bischofberger adds.
Still to come is a three-story museum dedicated to Bischofberger's first love, Swiss folk art, which he started buying when he was a child from farmers around Appenzell, the region where he grew up. Its upper story will also include private apartments for visiting scholars. And there may be more buildings. The architects can't be sure, because they never made a master plan.
That was not due to lack of experience. The couple, who have worked with large commercial projects as well as private residences, have plenty of that. It's just that Bischofberger wanted the freedom to make changes as each building developed. His generally even-tempered daughter acknowledges that she has walked out of planning sessions because, she says, "I was about to scream. Thankfully, I have Florian there to defuse the situation."
The two started dating at Columbia University in 1999; he was a postgraduate student in architecture from Heidelberg, Germany, and she was completing her master's degree. But they really got to know each other on a three-week -cross-country road trip instigated by Baier-Bischofberger's mother—who went along with them. "It was fascinating," Baier says without irony. "We all got along quite well."
Later that year, the young architects collaborated for the first time, on a feasibility study for the Männedorf site, and then left for a trip to visit architectural destinations around the world—a gift from Yoyo—before taking jobs in London, where they married and had the first of three children. Baier, who had interned with Hani Rashid at Asymptote Architecture, in New York, worked for Richard Horden, who is known for his micro-architecture. His wife started with Arup, the design-and-engineering firm, collaborating with Rem Koolhaas on a pavilion for the Serpentine Gallery. From there, she went on to Work, Ltd., a construction-and-design company that Baier later joined as well. They had just about decided to strike out on their own when, Baier says, "We got a phone call from Zurich."
Bischofberger gave them simple directions for what would become the Noppenhalle: He wanted four big rooms of equal size. He got them, along with space above the doorways between them designed expressly to accommodate several 36-foot-wide serial Warhol "Reversals" of Marilyn Monroe, Mao Zedong, and the Mona Lisa.
Warhol—another world-class pack rat—had an unusually symbiotic relationship with Bischofberger that extended well beyond their professional association. After Bischofberger's gallery's 1965 show helped introduce American Pop art to Europe, Bischofberger cofounded Interview magazine with the artist, who became a close friend and godfather to Bischofberger's son, Magnus. (Warhol also granted Bischofberger the right of first refusal for any work he showed—though judging from the size of the dealer's holdings, it seems doubtful anything was refused.)
Baier-Bischofberger's own godfather was another legend, the Swiss artist Jean Tinguely. The family became even more extended in the '80s, when Bischofberger added the neo-Expressionists Francesco Clemente, George Condo, David Salle, Schnabel, and Basquiat to his roster. "They were all a bit eccentric and lots of fun," Baier-Bischofberger recalls. "The artists stayed with us. We went on holidays with them. I remember Jean-Michel making dinner for us one Christmas. He was an excellent cook. Julian Schnabel would come and say, 'Let's move the furniture so we can see my painting better.' So we'd move all the furniture. Then my father would come in and say, 'Nina, we have to move the furniture back.' George Condo came with us to Ibiza when I was 12. He was painting on the patio and said, 'Nina, Nina, Nina, put my sunglasses on.' I asked why. He said, 'Just put the sunglasses on.' So I put them on and he said, 'Don't the paintings look better?' "
Growing up, it was all art all the time. "Our holidays were not spent at the beach," Baier-Bischofberger says. "We went to gallery openings, antiques stores, historic sites, monuments—we were drilled." Christmas and birthday gifts were art. One to Baier-Bischofberger from Warhol was a signed readymade—a framed group of store-bought plastic whistles, each a different color and still attached to its display card. The piece hangs alongside a standing lightbulb sculpture by Tinguely in the foyer of the 1930s pink stucco house in Zurich where she and her husband have lived for the past six years. "I don't remember Andy giving me the whistles," she says. "Only that I wasn't allowed to open the whistles."
Today, she sits on the acquisitions committee for architecture and design at the Museum of Modern Art, and both she and Baier would like to build more museums. And, she says, "I'd love to do a shoe store." Her husband has another idea. "A prison would be interesting," he says.
Photos: A Place for Everything
Florian Baier and Nina Baier-Bischofberger, outside Bruno Bischofberger's gallery in Männedorf, Switzerland.
The facade of one of the buildings on the former factory site the couple transformed to house her father's vast collection of art and design.
Inside the gallery are Julian Schnabel's Mr. Bamboo Gets an X-Ray, 1980, and Andy Warhol's Olympic Stadium, 1982. Olympic Stadium, 1982: ©2015 The Andy Warhol Foundation For the Visual Arts, Inc./artists rights society (ars), New York.
The exterior of Bischofberger's gallery.
The "pappardelle" exterior of the private exhibition space.
George Condo's Extraterrestrial Improvisation II, 1995, Francesco Clemente's Check Mate, 2005, and Condo's Extended Form, 2002 (from left).
Andy Warhol's childhood portrait of Baier-Bischofberger, Nina, 1976.
Nina, 1976: ©2015 The Andy Warhol Foundation For the Visual Ars, Inc./artists rights society (ars), New York, Courtesy of Baier-Bischofberger
Warhol, Jean-Michel Basquiat, Bruno Bischofberger, and Francesco Clemente, New York, 1984. Courtesy of Galerie Bruno Bischofberger.
The Bischofberger family, with Clemente, Basquiat, and others, in Rome, 1984. Courtesy of Christina Bischofberger