Bryan Cranston and Kevin Hart Are Your New Favorite Buddy Duo in 'The Upside' Trailer
Name a more iconic duo. We'll wait.
---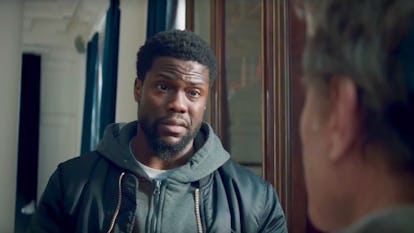 One Media/Youtube
If you've ever wondered what could bring Nicole Kidman and Kevin Hart together on screen alongside Bryan Cranston, well apparently an American remake of a wildly popular French comedy is your answer. The trio stars in The Upside, based on the award winning film The Intouchables and inspired by a true story. The Upside follows a paraplegic man (Cranston) who, after rejecting all of his potential live-in caretakers, decides to settle on an unusual candidate: a spirited ex-criminal (Hart) who's forced by his parole officer to get a job or risk losing custody of his son. Kidman meanwhile plays Cranston's right hand woman and assistant in everything other than his health.
Hart's character's nonexistent training might border more on mad than typical senior care, but, as you'd expect, the duo end up slowly climbing the ladder to BFF status—and it doesn't hurt that Cranston's character has billions of dollars in the bank, making it all too easy for the pals to make mischief at fancy galas and in Italian supercars. "I have more money than Jay-Z," he jokes in the trailer. "You can have any girl you want," his caretaker responds. "What about this lady with all the Botox? Y'all would be perfect for each other—you can't move your body, and she can't move her face."
As Deadline notes, The Upside was one of the major films produced by the Weinstein Company that found itself in distribution limbo after numerous assault and harassment revelations against Harvey Weinstein came to light last year. It premiered at the 2017 Toronto Film Festival mere days before the first report of Weinstein's alleged decades-long impropriety was published, and it was only until this summer that the film found a new home for distribution.
The film certainly has a lot to live up to when compared to it's source material. The Intouchables is the second highest grossing film within France of all time, and held the number one spot at the French box office for a record-breaking ten weeks. It's also found success elsewhere, and was the highest grossing non-American film in a language other than English at the worldwide box office of all time for several years before being overtaken in 2016 by a Chinese blockbuster, and is still the highest grossing European film worldwide of all time. It's probably unreasonable to expect the American version to reach those levels, but, hey, at least you know people enjoyed the main story.
The Upside will be out in January 2019.
Related: Five Minutes with The Intouchables Star Omar Sy