Bryce Dallas Howard Wore Topshop to the Critics' Choice Awards
Off-the-rack and stunning.
---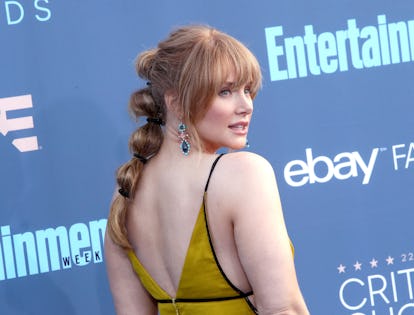 David Livingston/Getty Images
In a sea of high-fashion designers—from Emma Stone in Roland Mouret to Nicole Kidman in Brandon Maxwell—at Sunday's Critics' Choice Awards, actress Bryce Dallas Howard stood out in a mustard-colored floor-length gown from Topshop. Instead of borrowing the dress from a designer or wearing something custom-made, like many of her peers, Howard reportedly purchased the dress from the British brand for $240.
It's not the first time Howard has opted to go off-the-rack for the red carpet. At the Golden Globes earlier this year, she wore a $4,800 Jenny Packham dress that she bought herself from Neiman Marcus, claiming fashion's size exclusivity drove the size-6 actress to go rogue.
"When you're not 'sample' size, or when you don't have a direct relationship with a designer, or if you don't have a lot of notice, those types of size 6 dresses just aren't that available that much," Howard told People. "I like having lots of options for a size six as opposed to maybe one option."
Many women seem to agree with Howard and her fashion choices — her yellow bedded maxi dress has already sold out at Nordstrom.
What Everyone Wore to the 22nd Critics' Choice Awards
Emma Stone in Roland Mouret at The 22nd Annual Critics' Choice Awards on December 11, 2016 in Santa Monica, California.

Getty Images
Jessica Biel and Justin Timberlake at The 22nd Annual Critics' Choice Awards on December 11, 2016 in Santa Monica, California.

Getty Images
Nicole Kidman in Brandon Maxwell at The 22nd Annual Critics' Choice Awards on December 11, 2016 in Santa Monica, California.

Getty Images
Amy Adams at The 22nd Annual Critics' Choice Awards on December 11, 2016 in Santa Monica, California.

Getty Images
Michelle Monaghan in Monique Lhuillier at The 22nd Annual Critics' Choice Awards on December 11, 2016 in Santa Monica, California.

Getty Images for Porsche
Sarah Paulson and Amanda Peet at The 22nd Annual Critics' Choice Awards on December 11, 2016 in Santa Monica, California.

Getty Images
Naomie Harris at The 22nd Annual Critics' Choice Awards on December 11, 2016 in Santa Monica, California.

Getty Images
Busy Philipps in Martha Medeiros and Michelle Williams at The 22nd Annual Critics' Choice Awards on December 11, 2016 in Santa Monica, California.

Getty images/WireImage
Rami Malek at The 22nd Annual Critics' Choice Awards on December 11, 2016 in Santa Monica, California.

Getty Images
Mandy Moore at The 22nd Annual Critics' Choice Awards on December 11, 2016 in Santa Monica, California.

Getty Images for Moet & Chandon
Judith Light at The 22nd Annual Critics' Choice Awards on December 11, 2016 in Santa Monica, California.

Getty Images
Lily Collins at The 22nd Annual Critics' Choice Awards on December 11, 2016 in Santa Monica, California.

Getty Images
Anna Elisabet Eberstein and Hugh Grant at The 22nd Annual Critics' Choice Awards on December 11, 2016 in Santa Monica, California.

Getty Images
Kate Beckinsale in Reem Acra at The 22nd Annual Critics' Choice Awards on December 11, 2016 in Santa Monica, California.

Getty Images/WireImage
Greta Gerwig at The 22nd Annual Critics' Choice Awards on December 11, 2016 in Santa Monica, California.

Getty Images/WireImage
Ryan Gosling at The 22nd Annual Critics' Choice Awards on December 11, 2016 in Santa Monica, California.

Getty Images
Hailee Steinfeld at The 22nd Annual Critics' Choice Awards on December 11, 2016 in Santa Monica, California.

Getty Images
Viola Davis in Michael Kors at The 22nd Annual Critics' Choice Awards on December 11, 2016 in Santa Monica, California.

Getty Images
Emmy Rossum in Giorgio Armani at The 22nd Annual Critics' Choice Awards on December 11, 2016 in Santa Monica, California.

Getty Images for Moet & Chandon
Janelle Monae at The 22nd Annual Critics' Choice Awards on December 11, 2016 in Santa Monica, California.

Getty Imaes/WireImage
Bella Thorne in Swati Dhanak at The 22nd Annual Critics' Choice Awards on December 11, 2016 in Santa Monica, California.

WireImage
Felicity Huffman at The 22nd Annual Critics' Choice Awards on December 11, 2016 in Santa Monica, California.

Getty Images
Allison Williams at The 22nd Annual Critics' Choice Awards on December 11, 2016 in Santa Monica, California.

Getty Images/WireImage
Evan Rachel Wood at The 22nd Annual Critics' Choice Awards on December 11, 2016 in Santa Monica, California.

Getty Images for Moet & Chandon
Kerry Washington at The 22nd Annual Critics' Choice Awards on December 11, 2016 in Santa Monica, California.

Getty Images for Moet & Chandon
James Marsden at The 22nd Annual Critics' Choice Awards on December 11, 2016 in Santa Monica, California.

Getty Images
Tracee Ellis Ross at The 22nd Annual Critics' Choice Awards on December 11, 2016 in Santa Monica, California.

Getty Images
Casey Affleck at The 22nd Annual Critics' Choice Awards on December 11, 2016 in Santa Monica, California.

Getty Images
Amatus Sami-Karim and Mahershala Ali at The 22nd Annual Critics' Choice Awards on December 11, 2016 in Santa Monica, California.

Getty Images
Gillian Jacobs at The 22nd Annual Critics' Choice Awards on December 11, 2016 in Santa Monica, California.

Getty Images/WireImage
Watch video interviews with this year's Golden Globe nominees: