BTS Just Broke Taylor Swift's YouTube Record
Look what you made them do.
---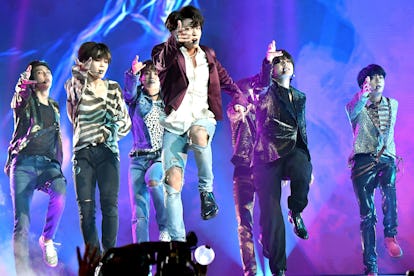 Jeff Kravitz/Getty Images
BTS can't help that they've taken over our hearts, playlists, and, now, streaming records—it's just in their DNA. On Monday, a YouTube spokesperson confirmed to Billboard that the K-pop squad had officially broken the record for the most views in the first 24 hours for a music video.
Within 24 hours of the Friday, August 24th release of "Idol," the music video had already amassed more than 45 million views, and it hasn't slowed down since. The video is continuing to zoom toward the 100 million mark, topping 92.8 million views as of Tuesday morning.
Per Billboard, the previous record-holder was none other than Taylor Swift, whose "Look What You Made Me Do" video accumulated 43.2 million views in its first 24 hours, in August 2017. Almost exactly one year later, that video's view count is currently hovering just below 1 billion—and if anyone could reach that milestone before Swift does, it's BTS and their army of fans. With the release and subsequent success of "Idol," BTS also broke their own record for the most views in 24 hours in all of 2018, which they'd reached after "Fake Love" hit 35.9 million in its first day, in May.
As for how, exactly, BTS has shot so quickly to these unbelievable levels of stardom, the boy band has a few theories of their own. "When we debuted, we started with the stories of school and youth. We have told stories about being human from the very beginning, and it was something we'd planned on before we even debuted," Suga reportedly said during a press conference after their new album, Love Yourself: Answer, was released last Friday. "We think that our worldview has also expanded bit by bit. I think that in analyzing BTS's popularity, it is wrong to say that it was just because of social media."
He added, "Of course it's due to our fans that we received so much love, but I think that people started paying attention to us because we focused on the music and messages that we thought were important. They listened to our thoughts and took greater interest in what we had to say. People didn't search us up just because of social media." Bandmate RM agreed, adding, "I think that the public is now able to discern the difference between sincere and 'sincere.' It's hard to convey sincerity clearly. We try hard to show our true thoughts, so I think that that was able to overcome the language barriers and touch other people's hearts as well."
Related: How BTS, the First K-Pop Band to Top the Billboard Charts, Became the Biggest K-Pop Stars on the Planet