BTS Is Making Self-Isolation Educational by Teaching Fans Korean
With a web series of 30 episodes that last a manageable three minutes.
---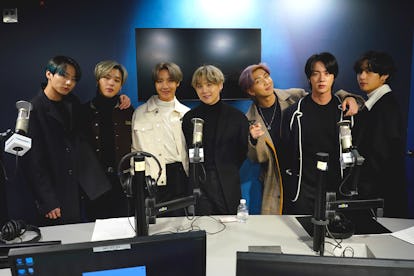 Getty Images
No K-pop superstar has managed to break through internationally like the absurdly popular seven-member boy band BTS. There's just been one hitch: Only Korean-speaking members of its so-called ARMY have been able to participate in the full extent of BTS fandom—an issue of which their label, Big Hit Entertainment, is well aware.
"There are many fans who can't enjoy Big Hit content to the fullest due to the language barrier," Bang Si-Hyuk, Big Hit's founder said at a conference last month. "Foreign media point out that there is 'more demand for learning Korean thanks to K-pop,' but there are only limited ways our fans could learn Korean with ease."
On Tuesday, the label made that undertaking a bit easier by officially launching Learn Korean with BTS, a collaboration with the Korean Language Content Institute to teach their fans Korean. The series comes complete with 30 three-minute episodes, and incorporates clips of BTS series like Run BTS! and Bangtan Bomb. The first three episodes are up, and the next will be released weekly, on Mondays at 8 p.m. EST. (A much more managable setup than a barrage of daily notifications from Duolingo, or keeping up with accounts like @btstranslation7.)
Accessing the series requires downloading the BTS fan community app Weverse, which is home to a bevy of other BTS content. For the past few weeks, RM, Jin, J-Hope, Jimin, Suga, V, and Jungkook have endeavored to keep the ARMY's spirits up by posting selcas—the Korean term for selfies—and videos of themselves talking about their nightmares and attempts to learn Pilates. Of course, there's no better time to do so than in the midst of self-isolation—a period that might only just be beginning. (Especially if you've already burned your way through your streaming lists.)