Water Works
The glam Budapest couple behind skincare line Omorovicza are expanding their reach.
---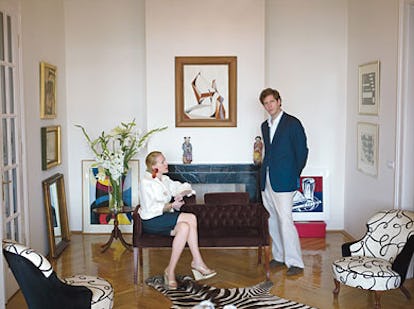 When Margaret Dickerson moved to Budapest to act as chief of staff for the U.S. ambassador to Hungary in 2001, she had little time to explore the city, let alone socialize or date. But that all changed when her boss, Nancy G. Brinker, and fellow diplomat Georg von Habsburg set her up with businessman Stephen de Heinrich de Omorovicza. "Nancy knew that I needed a little personal life," says Margaret. "And you know, Stephen is quite a dish."
The rest, as they say, is history. The pair soon became inseparable and wed in 2005 (they now have two daughters, Gabrielle and Octavia). A year later they launched Omorovicza, a skincare line that combines mineralized waters from an ancient source next to the Danube with natural ingredients like ruby crystals and Lake Hévíz mud. The idea came when Stephen, 37—who was born in Switzerland but comes from a noble Hungarian family—took 34-year-old Margaret, a native Floridian, to Budapest's famous, centuries-old baths. The ornate palaces house naturally occurring, mineral-rich pools that function as both communal hangouts and therapeutic aids for everything from arthritis to rosacea. "He would tell me how, 2,000 years ago, the Roman caesars built hospitals around the sites of these springs to cure soldiers," Margaret recalls. Though she was intrigued by the history, she was more amazed by how smooth and soft her skin looked and felt after a dip. She began noticing a similar afterglow on people all over town. "I don't want to be a reductionist and say even cleaning ladies have great skin," she says. "But everyone does."
The couple worked with scientists to make sure that all of their paraben- and petrochemical-free products harnessed the curative powers of the thermal water, which is naturally brimming with calcium, magnesium, zinc, copper and manganese. The minerals are said to boost collagen and elasticity, though Stephen also reports that "we have heard from customers who found that our products had markedly improved eczema and extreme dryness"—ailments that have long driven people to seek healing from the thermal baths.
The beauty team at Neiman Marcus was also taken with the story of the healing waters. "The fact that it was something old that they were bringing into the modern day" is what sold Hazel Wyatt, vice president and divisional merchandise manager for beauty and fragrance, on the brand.
The 15-product skincare line ($75 to $300) is exclusively available at Neiman Marcus and Bergdorf Goodman. The couple is about to cover even more ground with a new body range that includes a Firming Body Oil originally formulated for Margaret's use during her second pregnancy and a number of mineral face powders and concealers. Says Stephen, "Why spoil the effects of such pure skincare with synthetic cover-up?"
In keeping with the brand's heritage, facials at Omorovicza Boutique and Spa on Budapest's posh Andrássy Avenue are meant to literally transport guests to the baths: They're all done on heated, terrycloth-covered water beds. The expert facialists have already made guest appearances in Neiman Marcus's treatment rooms (and one made a house call to Texas social doyenne Lynn Wyatt), but during the next few months the de Heinrichs will permanently export their treatments to a few high-end spas around the U.S., starting with the Royal Palms in Phoenix. The aestheticians won't just buff pores to perfection; in typical Hungarian fashion, they'll focus on stringently educating their clients. Says Margaret, "There's not really anyone out there that gives you a tutorial on how to apply skincare."
Well, that may be a bit of an overstatement. There was a certain strict and exacting Hungarian skincare guru with a cult following, whom Margaret admittedly sees as their role model: "I think we're almost Erno Laszlo for the next generation."