Jewel Disclosure
The house of Bulgari commemorates its 125th anniversary with a first-ever retrospective.
---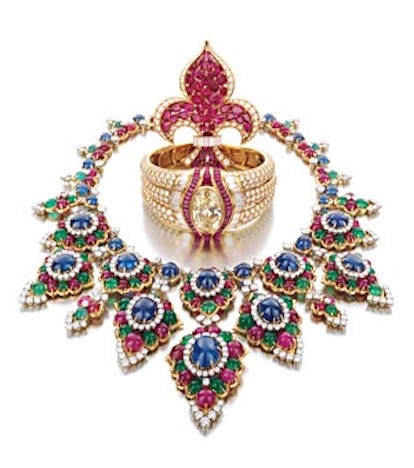 Amanda Triossi remembers the day she got hooked on jewelry. When she was four, her mother brought home an Italian celebrity magazine with photos of the coronation of Iran's Farah Diba, bedecked in a crown and necklace dripping with diamonds, emeralds and pearls. "For me," she says, "that was fantastic. I've always had a passion since then."
From top: Bulgari's 18k yellow gold, enamel and sapphire snake belt, circa 1970, owned by Diana Vreeland; 18k yellow gold, ruby, emerald and diamond necklace, circa 1969; platinum and diamond ring, circa 1950, owned by Anna Magnani.
That passion eventually led the University of Cambridge grad to the jewelry department at Sotheby's in the Eighties, where she authored three books on the subject—one on earrings, another on necklaces and a third, in 1996, on the history of Bulgari. Triossi left Sotheby's the next year to develop Bulgari's archive division from the ground up. "When I started doing research on the [Bulgari] book, there was no proper historical archive. I told them they really needed one, and it was a project I was keen to develop," she recalls. "Gradually, we started buying back vintage pieces."
18k yellow gold, polychrome enamel and diamond bracelet, circa 1970s; and 18k yellow gold and diamond necklace, circa 1978.
Fast-forward to today, and to what is perhaps Triossi's biggest undertaking yet: curating Bulgari's premiere retrospective, which opens at Rome's Palazzo delle Esposizioni on May 22. "Between History and Eternity: 1884–2009" is a landmark show—many of the pieces have never been displayed before—which celebrates a landmark year, Bulgari's 125th anniversary. (The exhibit, which also includes seven new high jewelry works, will later travel to yet-to-be-determined cities.)
Seated at a long table in a fifth-floor conference room in the company's headquarters in Rome, on Lungotevere Marzio, a stone's throw from the Tiber, Triossi offers a sneak peek at the exhibit's treasures, plucked from the house's basement vault. There's a gorgeous 18-karat gold necklace from the Sixties with flowerlike clusters of emeralds, rubies, sapphires and diamonds. Keira Knightley borrowed the piece for the 2006 Oscars; before that, it was owned by Princess Soraya of Iran. Triossi picks up an 18-karat gold and white enamel belt in the shape of a serpent, with tear-shaped sapphire eyes. "This belonged to Diana Vreeland," she says as she tries to wrap the hinged snake around herself. "She must have had a very thin waistline, because I can't wear it." Other showstoppers include a colossal 25-carat diamond ring once owned by Anna Magnani, as well as a gold timepiece purchased by Benito Mussolini's son-in-law ("Not the one who was bumped off," notes Triossi).
While the incredible scope of the firm's designs is on full display, the Bulgari history is not nearly as apparent. The house was founded in 1884 around silver bric-a-brac (chatelaines, plates, belt buckles) by Sotirios Boulgaris, a Greek silversmith from the village of Paramythia. (In 1894 he changed his name to the more Italian-sounding Bulgari.) It wasn't until 1915 that Bulgari began beefing up the jewelry side. "Bulgari comes into its own in the Sixties, the dolce vita period when you can see the cabochons and color mixes. The great innovation is really the mixing together of all different colors of gems," Triossi explains. "In the Seventies, things get very experimental." She points to a Buddha sautoir and a Pop art bracelet with pavé diamond stars as two bold examples. (Today the firm is still a family affair; grandsons Paolo and Nicola Bulgari are chairman and vice chairman, respectively, and great-grandson Francesco Trapani is CEO.)
Pulling together the exhibition of 500-plus objets proved plenty challenging. About 60 percent of the pieces came from the Bulgari archives; the rest are on loan from clients and collectors around the world, making the project a treasure hunt of sorts for Triossi and her team. Even the pursuit of a photograph of the first Bulgari shop on Via Sistina, circa 1884, had her workhorse researchers knocking on doors up and down the street. (At press time, the photo was yet to be found.) But there have been a few happy coincidences, too, such as the case of a gold melon-shaped minaudière from the Seventies. Socialite-cum-artist Christina Girard showed up to the jeweler's 2005 Houston store opening carrying the bag, replete with built-in compartments for lipstick, powder and comb. "My grandfather gave it to my mother when she got married," says Girard, adding that Bulgari execs photographed the collectible right then and there, later asking if she would loan it to the exhibit.
Yet when it comes to most of the other VIP lenders, including those within the Bulgari family, Triossi is tight-lipped. "People want to remain anonymous for security issues," she says. Of course, there is one name she's free to reveal: jewelry aficionada Elizabeth Taylor, who will be honored with her own room in the show. Triossi made a personal trip to Taylor's Bel-Air, California, bungalow to inspect the gems. "Unfortunately, I didn't see her," the curator says. "It was her secretary and a parrot. [Taylor] was upstairs with a toothache." Of the actress's 16 loans, the most famous is the Grand Duchess Vladimir emerald and diamond parure given to her by Richard Burton. Another stunner, an emerald ring, was gifted to her during their on-set Cleopatra affair, when Burton was still married to Sybil Williams. The bauble temporarily landed in the hands of Williams, who found it and mistook it as a gift for her. Says Triossi, "She came into the Bulgari store and said, 'I'm sorry, could you resize this for me?'"
Taylor and Burton's romance seemed to take place as much inside the Bulgari store as on the nearby sets of Cinecittà. The aforementioned Grand Duchess Vladimir brooch was an engagement gift; the necklace, from which the brooch can hang as a pendant, came shortly after as a wedding present. "The only word Elizabeth knows in Italian is 'Bulgari,'" Burton once joked. Or as Triossi puts it: "If you didn't spend money in Bulgari in the Sixties, where did you in Rome?"