The Team Behind Burdock Media Share Their Holiday Gift Ideas
Co-founders Peter Ash Lee and Hannah Chloe Lee reflect on family traditions and share a gift guide that highlights Asian-American creators.
---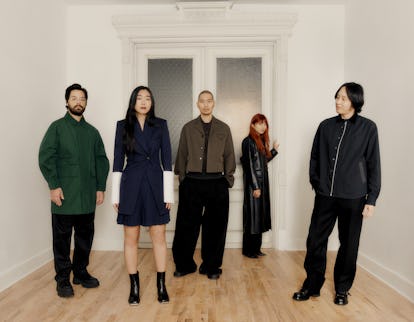 From Left: Alex Merto, Hannah Chloe Lee, Peter Ash Lee, Nadia Lung, Eric Ku. Photographed by Huy Luong; styled by Allia Alliata di Montereale; stylist assistant: Sophia Martin; hair and makeup by Dana Boyer at the Wall Group using OUAI; hair and makeup assistant: Mariel Marino.
Brother and sister Peter Ash Lee and Hannah Chloe Lee didn't participate in many typical Christmas traditions while growing up in Toronto. They didn't have a usual menu for family dinner—instead, the kids cooked whatever they wanted for their parents ("There were a couple of years of beer-can chicken," Hannah recalls). A Christmas tree wasn't an annual necessity; if they felt like buying one on a whim, they might. Their customs centered around their parents' greeting-card shop, which ran for more than 20 years in their Canadian hometown until it closed this year. In its heyday, the store was busiest during the holidays: As teens, and well into their adulthood, the siblings would join other family members and friends to help out in a space that Hannah describes as akin to "Santa's workshop."
"When we got back to Toronto from New York City, where we'd both moved, we jumped straight into it, feet first," Peter says. "Before we even could spend time together, our parents would be like, 'Okay, can you go to the store and work the till? It's really busy today.'"
Like many others, the Lees will be celebrating a different kind of holiday season this year. Instead of visiting their parents in Toronto, minding the register at the store, or improvising in the kitchen, they'll stay at their respective homes in Brooklyn and connect with family members over FaceTime. Peter, who works as a photographer, and Hannah, a strategist at Brand Bureau, are the cofounders of Burdock Media, an arts-and-culture platform that spotlights Asian and Asian-American artists, writers, and creators (they've run a Q&A with Pachinko author Min Jin Lee and interviewed designer Phillip Lim). The second issue of their print magazine, Burdock, which centers on the theme of sound, will be available in early 2021.
The Burdock team, in many ways, functions as a motley family as well—a small crew of editorial, branding, and design talents (who also contributed gift ideas for this story) works closely together to put out the magazine. In terms of the gifts they'll be looking to give and receive this year, they suggest such items as a Sandy Liang fleece, or ephemera from the New York City Chinatown staple Wing on Wo & Co. "For us, it was important to support independent designers, especially now," Peter says. "We also want to support a lot of Asian talent."
One especially distinctive gift will go to their mother, who's currently in Korea; they're planning on treating her to a nice dinner that she can have with extended family in Seoul, if it's safe to do so, or just planning an at-home experience. "Our mom is one of the most generous people I know," Hannah says. "She loved running the greeting-card store because she always said, anyone who's coming to buy something here is doing so out of the intent of giving to someone else. I thought that was such a nice sentiment."
The Burdock Media Gift List:
Noguchi Cloud Sofa, $2,269, eternitymodern.com
Jane D'HAENE Moon Jar, $375, d-haene.com
Brizo Faucets by Jason Wu, $531, build.com
Lettuce Grow, $348–$649, lettucegrow.com
The Omsom Bundle, $55, omsom.com
Bode Quilted Jacket, $1,554, bodenewyork.com
3.1 Phillip Lim Kate Lug Sole Boot, $650, 31philliplim.com
Dieter Rams: The Complete Works by Klaus Klemp, $60, phaidon.com
Super Mario Bros. Game & Watch, $50, nintendo.com
Wing on Wo & Co. Holiday Care Package, from $100, wingonwoand.co