You Can Now Buy Makeup on Spotify, Thanks to Pat McGrath
Makeup artist Pat McGrath is collaborating with Spotify for a "Shop The Look" buying experience.
---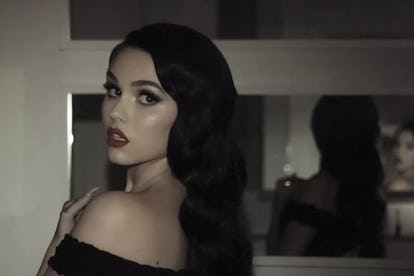 Just when you thought shopping couldn't get any easier, Spotify and makeup artist Pat McGrath are teaming up for the ultimate beauty and music collaboration. Yes, that means now you can buy cosmetics while streaming the latest from Dua Lipa.
With her LiquiLUST007 lipstick launch debuting this week, Pat McGrath Labs is partnering up with the streaming powerhouse, which houses over 140 million paid and ad-subsidized users, to allow beauty fanatics to enjoy a "Shop The Look" experience. To kick things off, the makeup line is on display in the new music video for the single "So Obsessed" by the up and coming singer Maggie Lindemann, 19.
The singer flaunts a variety of daring lip shades from burgundy red to vibrant purple that nicely previews what we can expect from the makeup guru's line.
While this isn't the first time the worlds of fashion and technology have harmoniously merged together, this is the first time Spotify will be selling makeup, and McGrath is ready for it. In a statement about her collaboration with the music hub, McGrath shared that,"Beauty, fashion, and music have been intrinsically linked since the 1960s. In this digitally-empowered, digital era of make-up, where fans crave instant glamour gratification I always want to reach fans where they're most engaged."
Starting today, cosmetics fans will be able to purchase Lindemann's "look" with McGrath's line ranging from lipsticks starting at $21 to face palettes starting at $125 exclusively on Spotify before it's official launch on November 17th. And while we have no doubt McGrath's line will be popular—if her previous launches are any indication—thanks to her cult-following of 1.6 Instagram followers, McGrath is ushering in a new era of merchandising for the beauty world. And as the increase of social media consumerism continues to rise, it's only a matter of time before we see artists like McGrath across multiple digital platforms. Soon, you may see beauty products for sale on everything from Snapchat to Musical.ly.
7 Paris Fashion Week Beauty Trends to Try This Fall
Models at Dior prove that voluminous, spider-like full lashes are a foolproof beauty statement that can effortlessly paired with a chic hat.

@dior
At Maison Margiela, makeup artist Pat McGrath took a playful approach to the classic hot pink lip, while hairstylist Eugene Souleiman added feathered hair tinsel as the finishing touch.

@maisonmargiela
At Miu Miu, Kaia Gerber made the case for athleisure chic, sporting a low ponytail with a wide-rimmed headband and classic winged eyeliner.

@kaiagerber
Sporting silk wrapped ponytails in various prints and colors, models at Lanvin paired their elevated ponys with a subtle cat eye.

@lanvin
At the Dries Van Noten show, hairstylist Sam McKnight kept the hair minimal with hints of shimmer on the hairline, while makeup artist Peter Philips transformed the eye with embellished jewels.

@driesvanoten
At Valentino, makeup artist Pat McGrath went for a head-turning glossy, magenta eye.

@patmcgrathreal
Models at Chanel wore exaggerated navy blue eyeshadow paired with a glossy, cherry red lipcolor.

@chanel