Byredo Founder Ben Gorham's Guide to Stockholm
Ahead of Stockholm Fashion Week, the poster child of Swedish cool shares his must-see list.
---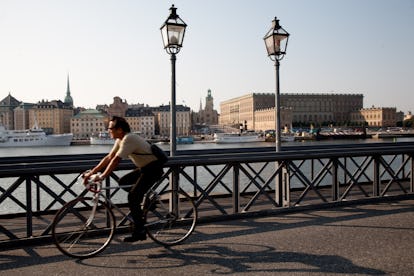 Getty Images
Sweden has so many cool denizens, it's hard to count them all (W's own Giovanna Battaglia being a recent import), but arguably the poster child of Stockholm style is Ben Gorham. As Stockholm Fashion week looms, the founder of Byredo (which just launched its newest fragrance, unnamed perfume) shares his local favorites.
Tell us about your neighborhood: I live on one of the five central islands called Södermalm. It's a neighborhood popular amongst young families and has a number of good schools, stores and plenty of restaurants and cafes.
Describe the style of your home in three words: Aalto meets India.
Favorite dining spot: Sturehof.
Favorite lunch spot: East Restaurant.
Best place to get bullar (aka cardamom buns): Tösses Bageri.
Best meatballs: Prinsen.
Best place to buy gifts to bring back home: Svensktenn.
Local delicacy you can't live without: Swedish Blood pudding. You can find it at any local supermarket. Serve it with Swedish lingonberries.
Best place for cocktails: Riche Bar and Restaurant.
Favorite date-night dinner spot: Mäster Anders.
Romantic dinner spot: Teater Grillen.
The best island to visit: Dalarö.
Favorite destination to bike to: Hellasgården.
Must-see museum: Moderna Museet, on Skeppsholmen.
Best neighborhood for shopping: Biblioteksstan.
Favorite fashion store: Acne Studios.
Don't leave without going here: A walk around Djurgården. It was traditionally the Kings hunting grounds situated across the water from the Royal Palace.
Don't leave without trying this: Eating a "toast skagen." Shrimp on toast. It's a summer delicacy.
Watch W's most popular videos here: