Caitriona Balfe, Coming to America in Outlander Season 4, Grapples With the Depiction of Slavery Onscreen
The actress grapples with depicting slavery onscreen in the new season.
---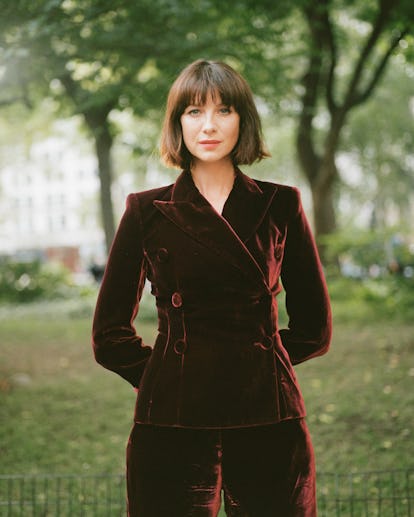 Caitriona Balfe photographed by Michael Beckert for W Magazine.
New York's Madison Square Garden is home to countless arena concerts and basketball games with screaming fans. It is not, however, typically the place you'd go to meet the cast of your favorite TV show. But not every TV show is Outlander. "It was insane," said Caitriona Balfe, a few days after a New York Comic Con event in October that had her and the show's cast take the stage at MSG's Hulu Theater. "We basically played Madison Square Garden, and I can't sing and I don't box and I can't play basketball, so that was very cool."
As the star of one of television's most popular series, which returns for its fourth season this Sunday, Balfe should be used to a fan base that might rival even Directioners or Swiifties. "It's such a cool thing to happen and to be part of something that really speaks to people that people feel so invested in that they then go and dress up as the characters," Balfe said. "It's really wild. I've never get used to that…I'm the laziest person. If i have to line up for anything, I'm out."
Not as if she'd have the time. The 39-year-old Irish actress has spent the last 10 months in Scotland shooting the upcoming season, on which she'll reprise her lead role as Claire, a World War II nurse who finds herself traveling through time. "It's always really daunting before you start, but once you're in it, it's really fine," she said. "That first day back on set is just so exciting to see everybody and to catch up. We do still enjoy each other's company and making the show that we're making, so that is definitely a benefit."
This season begins with Claire and her love Jamie (played by Sam Heughen) settling in North Carolina in the 18th century, following the book plot of the series' fourth installment, "Drums of Autumn." Despite the new fictional location, the show still filmed in Scotland, as it has with all the previous seasons. "As we say, trees in one place can pretty much look like trees in another place," noted Balfe, adding that shooting in the country can be "quite intense." "This winter, we suffered because Scotland had one of the coldest winters that they've had in a very long time," she said. "But we're a resilient bunch. I think after shooting in Scotland for five years, you become quite hearty."
The new time period, however, did allow for some changes in outfits for Claire, much to Balfe's delight. "A lot of the times you'll do the fittings way at the beginning of the season, before you even get a script, so it is always quite a funny thing because you are like, 'Where will this be? What will i be doing?' It's part of the process that I like; what you wear has such a reflection on who you are and where you are in your life," she said. "This season especially, because so much of it is the new frontier and Claire as a settler and building this log cabin from scratch and living in the wilderness, my whole thing was it needs to be practical. So it was great; we got rid of the corsets, we got rid of the bumroll. It was cool to find Claire's everyday, relaxed, man-about-the-house look."
The new season will see Claire and Sam attempting to build a home, just as America as we know it is being settled, presenting both the actors and crew with new challenges. "Playing a character coming from the late '60s and going to North Carolina and ending up on a slave plantation, that was such a difficult thing to shoot," she said. "We were constantly having discussions with the writers about is what we're doing right now being respectful and telling the story. A lot of the responsibility lies on the writers' heads because they determine what is in the script, but as actors you definitely try to fight your cause for what you feel is the most respectful as possible narrative. Anyone dealing with anything historical has to go through those questions.
"I have the easiest role to play in that way because Claire's views and opinions are much closer to my own," she continued. "Sam and Jamie are looking through things through the lens of an 18th century person and sometimes that can be a lot more complicated. But I hope we've done justice to those issues and looked at them in a way that's been respectful."
In her own life, Balfe voices her own opinions clearly, with an active Twitter account that does not shy from current social and political issues. "In some ways, I get a lot of grief online with people saying I'm trying to push this feminist agenda with the show, which I think is absolutely insane, because we are following the story of a book by a woman who has two degrees and raised a family and has a wonderful career, so if you are reading those books and don't think Diana is just a living, walking example of what a feminist is, whether or not she's trying to push any agenda, then you're obviously reading with a hood over your head," she said. "The way I look at it, every single person has the responsibility to be an informed and active member of the human race. I will always fight for whatever injustice I see happening and try to shine a light on that, because I can. But I don't think that anyone has to listen to me. They can read my Twitter feed or they can't. It's a very easy thing to do. There's a lot of people's Twitter feeds I don't read."
Again, she also doesn't have time for it. In her hiatus between Outlander seasons, Balfe is wrapping Ford v. Ferrari, the upcoming film about the feud between, yes, Ford and Ferrari, co-starring Christian Bale and Matt Damon. "It's been so wonderful. Working with Christian has been such a dream and he is such an incredible actor and such a nice guy," she said. "Also Matt Damon is so lovely, and it has been such a treat to work with him. It's been so cool to do something different. The whole thing has such a different feel than Outlander. It feels like a little vacation, but a really exciting one."