Calling All Korean Beauty Fans: Your Favorite Masks and Cutting-Edge Products Are Coming to Nordstrom
Nordstrom Vice President of Creative Projects Olivia Kim has hand-picked the best skin-changing products from the world's biggest beauty mecca and she's bringing them to the States.
---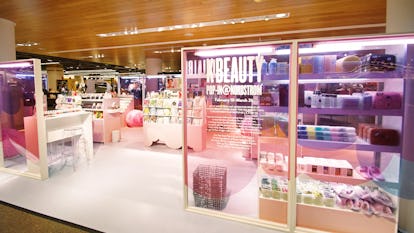 South Korea has become a global beauty hub, thanks to its unique mix of leading edge products and treatments. Unfortunately, many of the brands are still hard to procure these days, available only in South Korea or other nearby Asian countries. U.S. fans can finally find all their favorite Korean sheet masks, BB creams and cleansers here in the States at Nordstrom's new K-Beauty Pop-In@Nordstrom shop, which launched on February 10th (online and in select Nordstrom stores).
10 Korean Beauty Must-Haves for Flawless Skin
The second in Nordstrom's three-part, Korean-themed Pop-In series, curated by Vice President of Creative Projects Olivia Kim (the first was an eyewear shop by Korean eyewear label Gentle Monster), the K-Beauty shop includes more than 500 products from a variety of men's and women's brands (with prices ranging from $2.50 to $82) like Too Cool for School, Cool Enough Studio, DTRT, Huxley, ONEOSEVEN, IPKN, and more. While some of these brands are already internationally renowned, others will make their U.S. debut at Nordstrom.
Such an extensive selection can get a little overwhelming, especially for the uninitiated. What are some of the can't-miss products? First, a K-Beauty shopping trip isn't complete without buying at least a mask (or a dozen). The Me Factory White Flower Cheolsoo Foil Mask and the VANT36.5 Bubbling Mask are both W editor-approved.
There are also cult beauty favorites like the Too Cool For School Dinoplatz Magic Wand makeup remover sticks, which are essential for getting off lip and eye makeup, especially when you're traveling. And, because Korea is making some of the best facial mists out there right now, try the 24/7 In+Out Conditioning Mist Duo, which offers double anti-pollution care. (This is another item that is extra important for frequent flyers.)
If you want to try out something more experimental, there's plenty on offer, from hydrating jelly eye shadow to 24-karat gold-infused swabs to masks fortified with extractions from volcanic islands. (Korean masks are more advanced than ever right now, targeting very specific skincare issues with just the right treatments.)
Look out for the K-Beauty Pop-In@Nordstrom shop at select Nordstrom stores – The Grove in L.A., Downtown Seattle, NorthPark Center in Dallas, Michigan Avenue in Chicago, CF Pacific Centre in Vancouver, CF Toronto Eaton Centre and Bellevue Square in Bellevue – and online at Nordstrom.com/pop starting February 10th and running through March 26th. The K-Beauty Pop-In will be followed by the final installment of the series—a Korean fashion shop—on March 31st.