British Actor (and Burberry Model) Callum Turner is On the Rise
Callum Turner skipped acting school to model for the likes of Burberry. Now, the roles won't stop coming his way.
---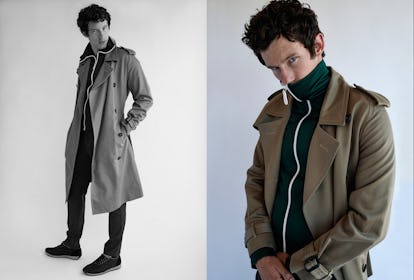 Photo by Nick Thompson. Styled by Christopher Preston. Grooming by Kristopher Smith for Bumble and bumble and Bobbi Brown. Produced by Biel Parklee. Photography Assistant: Alexander Oley.
As I'm walking through London on my way to meet Callum Turner, I'm confronted with a giant billboard of the man himself in his latest starring role: the fall-winter Burberry campaign. Dressed in military style wool coat layered over a tracksuit, Turner's juxtaposing outfit gives a double nod to his most recent on-screen character, Anatole Kuragin in the BBC's adaptation of Tolstoy's epic novel "War and Peace," and to his greatest love – football. It's not the first time the model-turned-actor and the luxury British fashion house have collaborated. Turner was also the face of Burberry's fall-winter 2011 campaign but the now 26-year-old has come a long way since then, having starred in "Queen and Country" and "Victor Frankenstein," and picked up a BAFTA Breakthrough Brits Award (an initiative which celebrates the UK's future stars).
Along with the likes of Jack O'Connell, Joe Cole and John Boyega, Turner belongs to a gritty breed of emerging actors – the antithesis of the classically trained, Eton-Oxbridge generation that preceded them. "I only started acting at 20, and it wasn't until three years ago that I actually decided I wanted to be an actor," he says. "I never went to drama school, it's a brilliant thing for the right type of person, but I threw myself in the deep end."
Movies have long been a passion of Turner's; he can describe film scenes in minute detail, like Johnny Boy's entrance in "Mean Streets," and reels off a concise list of his favorite actors. "Al Pacino, De Niro, Daniel Day Lewis, they're the best out there because everything they do comes from a very honest place," he tells me. "I'm all about character-driven parts. Of course I'd like to do something like 'Suicide Squad' one day, but it's characters that really excite me. Imagining what a character will do in a given situation; it's like an equation, and working it out is a marathon rather than a sprint."
It's football though that was his dream profession while growing up, and the sport was an invaluable way to channel his energy into his passions. "I played semi-professionally for a season and there's an element of performance to being a footballer, stepping onto the pitch; you feel like a gladiator walking into a colosseum," he explains. "After I got into trouble at school one time, my coach sat me down and told me: 'Decide who you want to be – a follower, or your own man.' That was a real turning point."
British Actor (and Burberry Model) Callum Turner is On the Rise
Turner grew up on a council estate in Chelsea, west London. His mother – a key fixture in the New Romantic movement and a regular at the now legendary Blitz Club and Camden Palace – raised him on her own. He animatedly recalls his foiled attempts at taming her theatrical fashion choices, and how her friend, the stylist Sascha Lillic, gave him his modeling break at age 17. "I had just started a new college after getting kicked out of my old one and hated it," Turner recalls in his soft baritone. "Sascha called me as I was leaving one afternoon; he had shown a model agency my photos and they asked if I could go to Paris to see them the following day. I took one last look over my shoulder at the college building and said 'yes!'"
By the age of 19, Turner had spent three months modeling in America, three months in Italy and five months in Japan. "It was fucking mad!" he says, almost shouting. "I felt so lucky to be able to explore the world like that, none of my friends had the opportunity to, so I went for it." Although he was an overnight success, Turner's modeling didn't exactly pay the bills; it did, however, pave the way for new opportunities. "A friend introduced me to my acting agent and it was after seeing my Burberry campaign images that they took me on," he says. "From then on, I'd run into Soho on my lunch break to go to auditions."
In 2012, Turner was cast for his first starring role, as Aaron in the TV drama "Leaving." Fast forward four years and his upcoming film "Tramps" is going to the Toronto Film Festival and he's appearing in the blockbuster "Assassin's Creed" (out December 21), which stars Jeremy Irons, Michael Fassbender and Marion Cotillard. "I remember going to see the director Justin [Kurzel]'s film 'Snowtown' when it came out five years ago," he says. "I left the cinema buzzing. I was like, man, that's the kind of film I want to be in one day, that's the kind of guy I want to work with."
Now that dream has come true. He is, as his former coach would put it, "his own man."
Watch W's most popular videos here: