Calvin Harris and Katy Perry Collaborate on New Song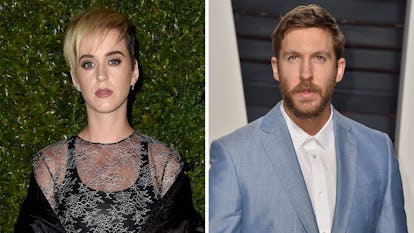 Composite. Getty Images
On Tuesday, Calvin Harris posted a teaser for his new album, Funk Wav Bounces Vol. 1, on Twitter and Instagram. It's set to drop June 30 and features collaborations with a who's who of current radio-friendly musicians: Ariana Grande, Travis Scott, Pharrell Williams, John Legend, Nicki Minaj, and, most interestingly, Katy Perry.
Under normal circumstances (or at least to normal people who aren't to date on their drama) it may not be such a big deal to see Perry's name on the list. After all, she has a new album coming out this summer, too. But, the obvious question arises: Will this track address the duo's respective feuds with Taylor Swift?
Fans and stans think all signs point to yes. In an interview with Entertainment Weekly earlier this week, [Katy spoke]http://www.wmagazine.com/story/katy-perry-taylor-swift-bad-blood) about Taylor's song "Bad Blood" and suggested that she may or may not be ready to musically retaliate.
"One thing to note is: You can't mistake kindness for weakness and don't come for me," Perry said in the EW interview. "Honestly, when women come together and they decide to unite, this world is going to be a better place. Period end of story. But, let me say this: Everything has a reaction or a consequence so don't forget about that, OK, honey."
Could that feud be the common ground Perry and Harris channeled when writing their collaboration song? After all, Harris and Swift did have a very public breakup in summer 2016, and fans thought one of Harris's first post-breakup singles, "My Way," was about the tumultuous split.
We'll actually get some answers when the album drops over the summer.
Related: Katy Perry Uses About 200 Words to Claim She Has Nothing to Say About Taylor Swift
Katy Perry: America's Biggest Export Goes Glam: