Inside the Fashion Week Party in Deep Bushwick
Underwear models and New York's underground brushed shoulders at Calvin Klein's warehouse blowout.
---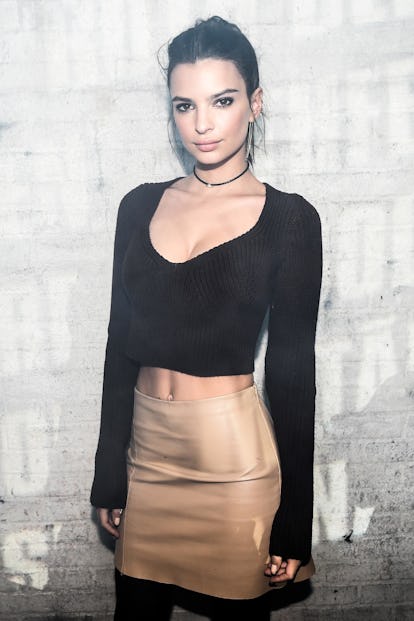 Outside a party in East Williamsburg on Friday night, Ubers idled back to back and the model Luka Sabbat was making out against a wall. Clearly, it was something related to New York Fashion Week.
Calvin Klein and Dazed had taken over a Brooklyn warehouse – how au courant – to promote the "My Calvins" social media campaign. Guests were encouraged to write in Sharpie what their underwear meant to them by filling in the phrase: "I [blank] in #mycalvins." Here are some of the answers:
"I smoke weed in #mycalvins."
"I slay fuccbois in #mycalvins."
"I Yeezy in #mycalvins."
Spotted in the smoky warehouse was model Gabriel-Kane Day-Lewis, who hit his vape pen and confided he's "done" with doing runway and only wants to focus on working on a music album.
Virgil Abloh, who stood by Kanye West's side in Madison Square Garden and then DJ'ed his after party, was also in attendance. The venue reminded him of the Yeezy Season 3 zine party, which he also hosted in a SoHo parking garage on Wednesday. He was pleased to learn that, in line for Rihanna's Puma show earlier in the evening, two girls were overheard practicing the pronunciation of his name, as if it was a secret codeword to gain them entrance. (It did.)
"That's awesome," he said. "I want everyone to be included. It you want to come to something, no one should tell you no."
Model Stella Maxwell came straight from Rihanna's Puma show with silver paint still in her hair. Other guests included Emily Ratajkowski, Zoe Kravitz and boyfriend Twin Shadow, Hari Nef, Petra Collins, and Calvin Klein underwear model Mitchell Slaggert, who had never been to a Brooklyn warehouse party before. Fresh off the boat, Slaggert hasn't been to many things before. His Fashion Week highlight thus far was A$AP Rocky's Guess party at The Box, where he saw fellow Calvin Klein campaign star, Kendall Jenner. (This time, he knew who she was.)
"It was overwhelming to see Kendall in that context," he said. "Cameras were flashing and everyone wanted a picture with her. It made me not want that kind of fame. I just want to have a good time in peace," he said. And with that, he disappeared into the crowd with his girlfriend . There were no cameras or selfie seekers in sight.
Photos: Inside the Fashion Week Party in Deep Bushwick
Emily Ratajkowski. Photo by BFA.
Stella Maxwell. Photo by BFA.
Mitchell Slaggert. Photo by BFA.
Luka Sabbat. Photo by BFA.
Zoe Kravitz and Twin Shadow. Photo by BFA.
Atlanta de Cadenet Taylor. Photo by BFA.
Zachary Quinto. Photo by BFA.
Jessica Hart. Photo by BFA.
Irene Kim at the DAZED100 launch. Photo by BFA.
Kenya Kinski-Jones. Photo by BFA.