Calvin Klein Sells His Minimalist Miami Beach Home for $13 Million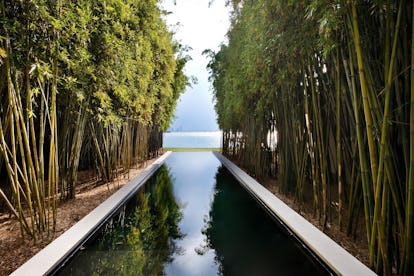 Douglas Elliman Real Estate
Calvin Klein just sold his Miami Beach residence to a buyer for $13 million, and, in the process, offered inquisitive fans a look inside the 5,802-square-foot estate. The fashion designer is known for his minimalist aesthetic, so we shouldn't be surprised that the home makes an excellent case for understated design and a neutral color palette, and the only pop of color comes from its tasteful display of greenery. (Incidentally, it's perhaps the complete aesthetic opposite of Tommy Hilfiger's Miami house, which just went on the market this week).
Outside, there is plenty of that as lush landscaping like dense bamboo line what might be the world's sleekest infinity pool that stretches out to a private dock on Biscayne Bay. There's also a courtyard, sparsely dotted with trees, that overlooks the 1929 Spanish-style home complete with arches, a terracotta roof, a balcony, and windows letting the sun flood the rooms.
Inside, clean lines abound in the bone wood-paneled bathroom with a hovering mirror and the living room and dining room, done up in white cloth furniture and wood tables. Considering how much care has been given to create such a cohesive look, Calvin Klein was equally particular about who ended up with the home. "It may sound crazy, but I wouldn't sell it to just anyone," the designer told Page Six two years ago, when he first announced he would be unloading it. "It would break my heart. I hate to use the word 'unique,' but I have never seen another house like it…I want to sell it to someone who appreciates the aesthetic."
Whoever the lucky inheritor of this estate is has yet to be revealed, however that CK-approved person is reportedly from the United States and has intentions of spending their future vacations at the home, rather than using it as their primary residence, according to the South Florida real estate news outlet The Real Deal. The $13 million listing price didn't include the home's furniture but, wisely, the next owner purchased it separately.
Watch W's Most Popular Videos: