Mitchell Slaggert: A Country Boy Becomes the Face of Calvin Klein Underwear
On his first trip to New York, the newbie model recalls meeting Kendall Jenner and getting scouted by Jennifer Lawrence's agent.
---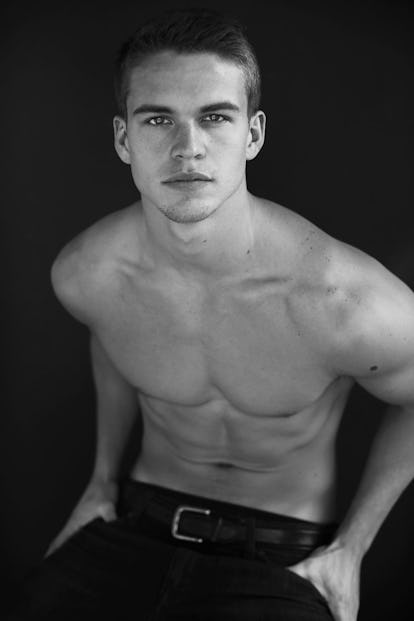 When model Mitchell Slaggert showed up on set in England ____ last month to shoot the latest Calvin Klein underwear campaign, he met a young model who seemed familiar. "She was a name I knew, but not a face," he said. The young model was Kendall Jenner. When asked to explain how he didn't recognize one of the most famous women in the world, Slaggert bashfully stammered, "Well, I don't watch her show."
Slaggert can be excused for this and other lapses in his knowledge of celebrity culture, like not knowing the meaning of "Versace" (he'd only heard the name in a song by Migos) or GQ, a magazine he didn't know existed until he appeared in its pages. The 21-year-old is fresh off the boat from little-town Fayetteville, Georgia, and he's about to hit the big time. In short order, the strapping young hunk went from interviewing for a job at the Department of Homeland Security to posing with Jenner to be the face of Calvin Klein Underwear.
"The good Lord has a plan. It just wasn't meant for me," he said on a recent afternoon. "And now I'm in New York hanging out in the World Trade Center!"
The model was in Lower Manhattan for a shoot and was basking in his newfound notoriety. The day before he had been the hit of Calvin Klein's presentation during during New York Fashion Week: Men's. Shirtless in nothing but tight gold metallic pants, he had gamely posed in the tableaux designer Italo Zuccheli conceived for the occasion as editors and other fashion groupies strained to take his picture.
"I get a lot of DM's on Instagram. Some of these girls…" he said, incredulous. "They're crazy."
Growing up in Georgia, Slaggert wanted to join the U.S. Marines. But a car accident when he was seven left him with one kidney and he couldn't enlist. He was this close to joining Homeland Security – its job interview was much more stressful than any modeling casting call, he said – when he was spotted walking around downtown Wilmington, North Carolina, where he was studying mechanical engineering at the University of North Carolina.
"I was leaving class and this guy chased me down and tapped me on the shoulder," Slaggert recalled. The guy happened to be the man who discovered Jennifer Lawrence. "He asked me if I wanted to model and it sounded too good to be true. Usually it is, but I got lucky."
The trip to New York for the Calvin presentation was the first to city and he felt overwhelmed by the sights and the crowds. The cold weather also forced him to buy a hat and scarf, but his girlfriend does the rest of his shopping. On his visit downtown, he wore Doc Martens she bought him, slim-cut jeans, and a Calvin Klein v-neck, plus a leather bomber jacket his dad bought him from Amazon Prime. Left to his own devices, though, Slaggert would be dressed in a duck hunting cap, boots, and his beloved "grandpa jeans" from Levi's.
To fit into Calvin Klein's tight pants, he had to lose ten pounds. "I can't just lift weights, otherwise I'll bulk up," he said of his new fitness routine. "You need to be slim to fit in these clothes."
As Slaggert walked out of the World Trade Center in his tight jeans, he stopped to look at some Steven Klein portraits of Kate Moss flanking the walls. "Do you know who this is?" I asked. Slaggert scratched his head.
"Nope."
Photos: Mitchell Slaggert: A Country Boy Becomes the Face of Calvin Klein Underwear
Mitchell Slaggert. Photo by David Sims, courtesy Calvin Klein.
Calvin Klein Collection. Photo courtesy the brand.