In Quarantine, Cameo Fills a Void of Connection
The celebrity video messaging platform has taken on new life—and top talent like actor Brian Baumgartner are receiving unprecedented requests.
---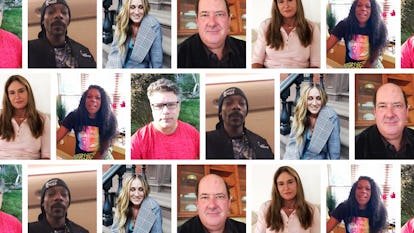 Collage by W Magazine.
When Cameo, the platform that allows people to purchase video messages from celebrities, launched in 2017, it was something of a punchline. For a couple hundred dollars, Flavor Flav or one of the Real Housewives could enter your home, virtually speaking, to deliver a personalized sentiment as directed by whichever friend or family member paid for it—with some amount of hamming it up on the celebrity's part.
In the first three years of its existence, Cameo gained traction as a growing internet marketplace—people gifted Cameos to their children for birthdays, or to their spouses to honor an anniversary. But it was, by and large, a novelty.
That was before the COVID-19 pandemic. Since shelter-in-place measures took hold of much of the United States in March, Cameo has come to occupy an entirely different cultural space. It's morphed into a form of communication for people who can't physically be with loved ones during holidays or special occasions. For the actors, musicians, and artists of the gig economy who are now without work, signing up for Cameo brings in a new source of cash flow. And those cooped up at home for weeks—or months—could find a video from a beloved celebrity as a nice consolation for having to postpone a wedding, graduation, or any other big celebration.
According to Cameo's CEO Steven Galanis, bookings on the site have risen 800% over the past two months, and the number of new talent joining the platform has quadrupled. Galanis describes Cameo's situation as akin to that of Instacart's—a service that might have been regarded as gimmicky or excessive six months ago, but now, has found new life in light of the pandemic, when consumers are willing to try new behaviors and services.
The conversation surrounding Cameo has certainly changed, as have the names on offer. Although Flavor Flav and a slew of the Real Housewives are still available for Cameos on the site, Sarah Jessica Parker, Billy Zane, Mischa Barton, Big Freedia, and hundreds more have also joined, some of whom are donating their proceeds to COVID-19 relief charities. Of-the-moment cult figures, like Big Ed from 90 Day Fiancé or the Tiger King cast, experienced huge surges in requests, as did comedians including Chris D'Elia and Gilbert Gottfried. More nostalgic names, Tommy Chong and Lance Bass among them, also constituted a large population of purchased Cameos. It's proof that people are using the service to make others laugh—a near-revolutionary act in such down economic and public health times—or transport them to another era, some far-away memory that allows for a momentary escape.
The top five most-requested stars on Cameo since mid-March are a motley list, ticking the boxes of nostalgia, comedy, and cult favorites. Number five is Gottfried; number four, the NFL Hall of Fame quarterback Brett Favre; number three is Sonja Morgan, from the Real Housewives of New York; the second spot belongs to The Bachelor host Chris Harrison, and the star with the highest amount of Cameos purchased is the actor Brian Baumgartner, who played Kevin Malone on The Office.
Like most, Baumgartner is currently quarantined at home in Southern California—where he's been doing a "close to overwhelming" amount of Cameos daily. People have requested that he send messages as pick-me-ups for kids who aren't able to throw birthday bashes, or gender reveal announcements in lieu of parents-to-be shooting blue or pink confetti cannons into the air at a party. Some have even asked him to propose to their partner in a video.
"The proposing is always like, man, are you sure?" Baumgartner said. "But I'm not someone who would ever think to propose on the Jumbotron. Everyone's different. I certainly don't want to dismiss any of the people who have chosen to do that."
As a celebrity, Baumgartner exists in that sweet spot where fandom is not limited to age, occupation, ethnic background, or location. He's got supporters of all kinds, all over—and new ones are finding him daily. During the coronavirus pandemic, younger teenagers looking for shows with plenty of seasons to binge have found The Office; those working from home for months who just want to recall the days of mindless water cooler banter and office politics have returned to their favorite episodes as well. And, Baumgartner mentioned, some members of the Army who were deployed overseas and currently aren't able to return to the United States have sought solace in The Office as well. He's gotten multiple requests for Cameos dedicated to men and women in uniform.
"When we were doing the show, we were by and large in DVD land," he added. "I remember sending DVDs and hearing stories from people who work in service who said, 'We have a copy of season three of The Office and we watch it over and over.'"
The messages to those in the armed forces have historically been Baumgartner's favorite kind to do, even before the pandemic ("It sounds like one of those things that you're supposed to say, but it's 100 percent true," he laughed). But since mid-March, Baumgartner has received an unfamiliar ask: a few times, he's had to send Cameos to family members of those who have died from COVID-19. It's been difficult for him to find a way to navigate such a challenging and delicate scenario, but the actor said it's created an alternate path of communication—a new connection he can make with fans that, hopefully, will bring them some amount of happiness.
"As a human being myself, I want to pay a moment of respect and also give them a moment of relief or release, or both," he said. "If you have a friend who's a really big fan of the show or of me, and you have made the decision that I am the person that you want them to hear from at this moment, I just do it. I do it the best I can."
Related: Tracee Ellis Ross Is Here to Soothe Your Frazzled Nerves