RETIREMENT LIFESTYLE NEWS
Cameron Diaz Says She Quit Acting to Feel Like an Adult
The "There's Something About Mary" actress sat down with Gwyneth Paltrow for a conversation on motherhood and finding peace off-screen.
---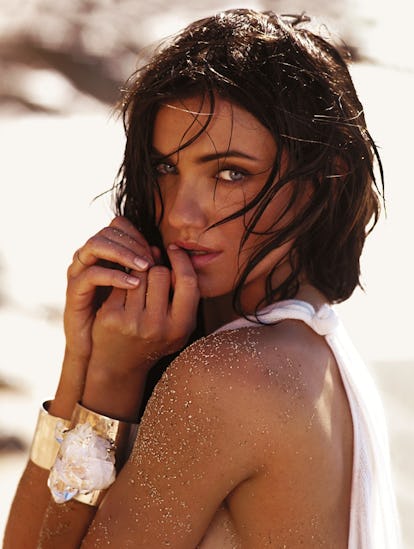 Photograph by Mert and Marcus.
While it's true Cameron Diaz hasn't appeared on screen since 2014, it's not exactly as though the actress has become some Greta Garbo-esque recluse, shunning the outside world. She's written two books, has an active public Instagram, released her own line of natural wines called Avaline, and just joined TikTok last week. Secluded she is not.
In fact, Diaz said she decided to wind down her movie star status not to turn away from the public, but rather so she could work on herself. She wanted to feel like an adult for the first time in her life.
Diaz sat down with her longtime friend (and in a not-necessarily-shady sense, fellow former movie star) Gwyneth Paltrow for a Zoom-based tête-à-tête to discuss topics like the wine launch, being a "manifester," and Diaz's decision to take herself off the A-list.
"I just decided that I wanted different things out of my life. I had gone so hard for so long, working, making films and it's such a grind," Diaz said. "When you're making a movie—it's a perfect excuse—they own you. You're there for 12 hours a day for months on end and you have no time for anything else."
"Actors are infantilized. We're put in a position where everything is taken care of for us," Diaz added, while also noting that ironically, her position put her personal life in the public, even as she felt she barely had time for a personal life to begin with.
The actress says she's now found "peace," and just wanted to live life like a normal adult for once—under circumstances she could better control.
Diaz first began her career at only sixteen as a model, a profession that put her on the cover of Seventeen and saw her traveling to Australia to work for three months. She was only 21 when she landed her breakout role as the female lead opposite Jim Carey in The Mask. Despite an initial attempt to star in smaller films, superstardom came calling quickly. She held her status onscreen alongside Julia Roberts in My Best Friend's Wedding, and by 1998 she proved her own box office chops with There's Something About Mary. Her career never slowed down, until she decided she wanted it to.
She met Good Charlotte member Benji Madden in 2014, and married him in 2015 (In the chat, Paltrow likened her friend's courtship to Married at First Sight, which she happens to be watching on Netflix at the moment).
Earlier this year, the couple welcomed their first daughter, Raddix. Diaz said she's trying to pass on her hard-earned lessons to her daughter. She hopes Raddix doesn't put too much stock into her looks, and even cringes when people call her daughter "cute."
For the record, while Diaz has used the word "retired" and claims she doesn't miss performing at all, she hasn't completely ruled out ever acting again.
"Look, I'm never going to say never," Diaz told Gucci Westman in a chat earlier this year. "I'm not a person who says never about anything."
Ironically, it was some of Diaz's less glamorous and grittier roles, like Lotte in Being John Malkovich, that won her some of her best reviews. We're okay if Diaz never wants to be a movie star again, but we would like to revisit Cameron Diaz, character actress at some point.
Cameron Diaz in Marc Jacobs's silk dress, at Marc Jacobs, marcjacobs.com.

Photographer: Michael Thompson Styled: Camilla Nickerson
Ralph Lauren Collection's black silk velvet jacket, at select Ralph Lauren stores, ralphlauren.com; Rodarte's red and black mohair and alpaca knit dress, at Bergdorf Goodman, New York.

Photographer: Michael Thompson Styled: Camilla Nickerson
Photographer: Michael Thompson Styled: Camilla Nickerson
Cameron Diaz wears Proenza Schouler's black sequined silk top, at Ikram, Chicago. Christian Louboutin shoes.

Hair by Eugene Souleiman; makeup by Diane Kendal; manicure by Sheril Bailey at Jed Root Inc. Photography assistants: Christopher Melton and Bryce Ward. Digital technician: Stas Komarovski. Fashion assistants: Patrick Mackie and Beitressa Mandelbaum.

Photographer: Michael Thompson Styled: Camilla Nickerson
Oscar de la Renta's cotton sweater and Lycra bikini, at Oscar de la Renta. M+J Savitt cuff.

Photographer: Mert Alas and Marcus Piggott
TSE's cashmere tunic, at Barneys New York; TSE, San Francisco and Costa Mesa, California. M+J Savitt cuffs.

Photographer: Mert Alas and Marcus Piggott
Calvin Klein Collection's silk and vicose jersey dress, at Calvin Klein New York; Ralph Lauren's sequined and beaded silk pants, at select Ralph Lauren stores. Lanvin earrings.

Hair by Oribe for Oribe Salon; makeup by Lucia Pieroni for Clé de Peau Beauté; manicure by Pauline Boom. Set design by Gerard Santos at Magnet NY. Production by lalaland; postproduction by Dreamer Post. Fashion assistants: Deborah Afshani, Megan Ahern and Felicia Garcia Rivera.

Photographer: Mert Alas and Marcus Piggott
TSE's cashmere tunic, at Barneys New York; TSE, San Francisco and Costa Mesa, California. M+J Savitt cuffs.

Photographer: Mert Alas and Marcus Piggott