Behold Cameron Diaz's Most Iconic Roles, From The Mask to The Holiday
A retrospective of the iconic roles portrayed by Cameron Diaz, who has reportedly quit acting.
---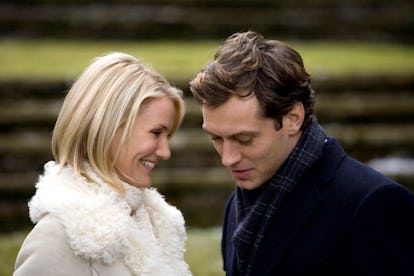 ©Columbia Pictures/Courtesy Everett Collection
Cameron Diaz has proven that she has range—for the last two decades, we have seen her transform from a former model with some spunk to a bonafide leading lady, in romantic comedies, blockbusters, and indie dramas alike, leading to four Golden Globe nominations early on in her career. And how many actors (besides Drew Barrymore and Lucy Liu) can say their name was mentioned in the opening lines of an anthemic Destiny's Child bop?
In the past few years, Cameron Diaz has kept an uncharacteristically low profile, and now it turns out she may have retired from acting completely. That's at least according to her friend and The Sweetest Thing costar Selma Blair. Daily Mail also reports that part of Diaz's retirement from the film business includes plans to focus on her family life with her husband, Benji Madden. "I mean, she doesn't need to make any more films, she has a pretty good life. I don't know what it would take to bring her back," Blair told Daily Mail at the 2018 Vanity Fair Oscar Party.
Diaz's last film role was in 2014, when she played Miss Hannigan in Annie (she also released two health-and-wellness books in 2013 and 2016), and since 2015, she has been married to the Good Charlotte vocalist and guitarist, whose twin brother, Joel, is married to Nicole Richie. She's been busy! But she has reportedly turned down script after script, to focus on her life at home.
While we may never know all that it would take to get Diaz on the big screen again, by looking back at some of her most iconic roles we hope someone can figure it out.
The Mask
In 1994, a relatively unknown 21-year-old model named Cameron Diaz auditioned for the role of Tina Carlyle in The Mask, a wacky comedy about a bank teller named Stanley (played by the inimitable Jim Carrey), who, when he dons a mysterious green mask, becomes a superhero of the manic variety. Diaz reportedly had no acting experience before her feature film debut in The Mask.
My Best Friend's Wedding
As Kimmy Wallace, Cameron Diaz was Julia Roberts's sweet, unassuming enemy and Dermot Mulroney's young bride-to-be in My Best Friend's Wedding. As much as we all love Rupert Everett's rendition of "I Say a Little Prayer" in the 1997 romantic comedy, it is so hard to resist falling for Diaz when she sings "I Just Don't Know What to Do With Myself" at karaoke.
There's Something About Mary
You will never look at hair gel the same way again after Cameron Diaz's run-in with Ben Stiller in There's Something About Mary. Hollywood also never quite looked at her the same way either. Mary marked the beginning of her transition from promising ingenue to burgeoning movie star.
Being John Malkovich
Diaz's performance in the Spike Jonze–directed drama Being John Malkovich as the peculiar, chimpanzee-owning Lotte Schwartz earned her a Golden Globe nomination for best supporting actress in 2000. Her major make-under for the film also proved there was more to Diaz's screen presence than just her beauty.
Any Given Sunday
As the take-no-prisoners owner of a football team, Diaz flexed her dramatic chops alongside Al Pacino and Dennis Quaid in the Oliver Stone film.
Charlie's Angels
No one could make Spiderman underwear look as good as Cameron Diaz does when she wakes up to dance to "Heaven Must Be Missing an Angel" as Natalie Cook in the 2000 version of Charlie's Angels.
Shrek
When she lent her voice to Fiona, the human princess trapped in a dragon-guarded castle and cursed with becoming an ogre after nightfall, Diaz became the treasure of one of the most celebrated animated franchises of the 21st century.
Gangs of New York
As pickpocket Jenny Everdeane, Diaz played the object of Leonardo DiCaprio's affection in Gangs of New York, the period drama about the crime-ridden Five Points district of 19th-century Manhattan.
In Her Shoes
In In Her Shoes, Cameron Diaz wreaks havoc on the lives of her family and friends as the easygoing Maggie (much to the chagrin of her sister, played by Toni Collette).
The Holiday
Never has there ever been a more cathartic rendition of "Mr. Brightside" by the Killers than the one performed by Cameron Diaz in The Holiday, the 2006 Nancy Meyers home-swapping romantic comedy.
Bad Teacher
A middle school teacher who returns to educate tweens just so that she can make enough money for breast implants? There's the wacky, raunchy Cameron Diaz we know and love!
Update: Selma Blair has since retracted her claim that Diaz is retiring from acting, dismissing her own comments as a misinterpreted joke: "BREAKING NEWS," she tweeted on Monday, March 12. "Guys please, I was making a joke in an interview. CAMERON DIAZ is NOT retiring from ANYTHING. And for more breaking news: I am NOW retiring from being Cameron Diaz's spokesperson."
Still, wasn't this a fun exercise in nostalgia? Please don't stop acting, Cameron Diaz.
Related: Behold the Beauties of the '90s