Camille Henrot: Mind Games
Driven by her intensity and wide-ranging obsessions, the artist creates sculptures and films that are thrilling the international art world.
---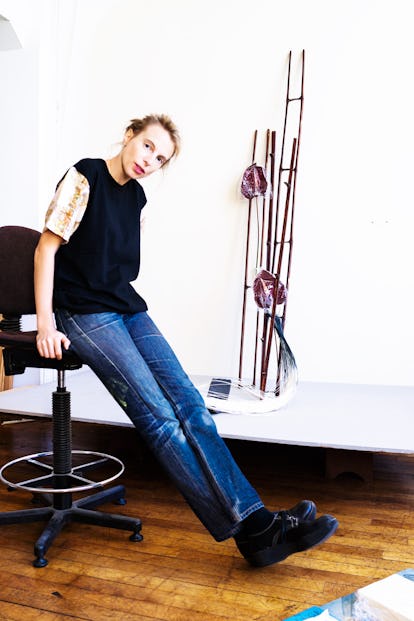 Photographer: Dylan Don
In 2012, when Camille Henrot was researching Grosse Fatigue—her acclaimed 13-minute video about the history of the universe, the nature of myth, and the limits of knowledge, among other things—she began to wonder if she was literally going insane.
Frequently unable to sleep, Henrot would lie in bed fixating on such topics as the link between the reptilian brain and the binary code used by computers. ("I have to photograph a frog on top of an iPhone," she vowed.) It didn't help when she read the diaries of Philip K. Dick, the hallucination-prone science fiction writer, and saw disturbing parallels with her own thought patterns. This in turn led to some late-night Google searches about the incidence of schizophrenia and bipolar disorder in her native France.
It turned out Henrot's problem was not mental illness but ordinary 21st-century anxiety, the kind that permeates Grosse Fatigue, which ended up winning the Silver Lion at the 2013 Venice Biennale. Set to a soundtrack that blends hip-hop and spoken word, the video shows a frenzied succession of images (slithering snakes, soap bubbles) on a computer to depict the invigorating yet overwhelming interconnectedness of pretty much everything. And Grosse Fatigue was hardly the first of Henrot's projects to be fueled by her obsessive tendencies. For one of her earliest shorts, Deep Inside ** (2005), she took a 35-millimeter '70s porn film and spent six months drawing her own animated love story on top of it in black ink, frame by frame. (Each second of film contains 24 frames.) After the photo lab mistakenly washed off all her images while transferring the film to video, Henrot simply started over, eventually damaging her hands and developing vision problems that still linger, nine years later.
"There are many, many artists out there," says Polly Staple, the director of London's influential nonprofit Chisenhale Gallery, which commissioned Henrot's first solo show in the U.K. earlier this year. "But the really good ones always have the drive and ability to push through that you see in Camille."
Henrot's intensity is not immediately apparent. Tall, pale-skinned, and fine-featured, the artist, 35, could pass for a Danish tennis instructor or the quiet daughter of a well-to-do French family (which, it turns out, she is). In social situations, she often projects the kind of polite reserve that can invite underestimation. "Whose girlfriend are you?" she was once asked by a female French gallerist during the awards reception for the Prix Ricard, for which she was a nominee.
Her work, likewise, doesn't always wear its complexity on its sleeve. Although Henrot could easily spend hours deconstructing a pencil, her taste for theory is balanced by a penchant for sensual free association and, as she puts it, an "admiration for the principle of pleasure." One of her first video installations, created with her boyfriend and frequent collaborator, the noted French electronic musician Joakim, depicted a giant pair of red lips silently mouthing the words to various popular love songs. Microphones nearby invited a chorus of viewers to sing along, guided not by karaoke-style subtitles but by their memories, the LED image, and one another. The results seemed to thrill Parisian intellectuals and Parisian 8-year-olds in equal measure.
Much of Henrot's work, which will be on display in her first major Stateside exhibition, May 7 through June 29, at the New Museum in New York, exists at the heady intersection of art and anthropology. When we meet in London in February, Henrot is installing her show at Chisenhale. Called "The Pale Fox," it's inspired by a book of the same name about Dogon cosmology, as interpreted by two ethnologists who'd spent time in French Sudan (now Mali) in the '30s. It's easy to see why the book appealed to Henrot, as it describes sophisticated belief systems that incorporate elements of mathematics, astronomy, botany, and a gender-based numerical system (3 is male, 4 is female). Part of the narrative is about a fox who misses his unborn female twin and tries to steal her placenta from God. "Basically, the fox is introducing disorder into Creation, but this disorder is also a creative process," Henrot explains. For the show, she designed a curved, flowing shelf system to display objects ranging from her own bronze sculptures to an eBay-sourced reprint of the 1910 study Some Results of Castration in Ducks.
Henrot began drawing as a young child, favoring ballpoint pens over crayons and producing stacks of storyboard-style narratives. In the absence of any parental pressure to study hard (her father is an investment banker; her mother, an artist and engraver who was happy to let her skip school to draw or go to the zoo), Henrot eventually devised her own form of rebellion, vowing to get good grades and then make her own living. After graduating from l'Ecole Nationale Supérieure des Arts Décoratifs in 2002, she started making product advertisements along with a few music videos—which weren't quite commercial enough for the labels that had commissioned them. "In meetings, they would say, 'Uh, this is not for us,' " Henrot recalls. "It was a bit like, 'You're an artist! Get out of my office!' "
She later branched into sculpture and other media and signed with the Paris dealer Kamel Mennour, who financed her film project about the apartment of the architect Yona Friedman. Mennour says that many collectors initially considered Henrot's work "too intellectual." Things started to shift around the time that François Pinault bought Tevau (2009), a sculpture made from a rolled-up fire hose. For a much-praised show at Mennour's gallery in 2012, Henrot used Japanese ikebana flower-arranging techniques to translate some of her favorite books into plant-based sculptures.
The New Museum's associate director Massimiliano Gioni and curator Gary Carrion-Murayari are including several new, American-influenced ikebana pieces in the New York exhibition (William Faulkner's Absalom, Absalom! is portrayed in its most recent version via palm leaves and yellow chrysanthemums). Carrion-Murayari says that these works are "a literal demonstration" of Henrot's uncanny range of knowledge. "But she is not just sort of name-checking these authors," Carrion-Murayari says. "The engagement with those ideas, combined with the playfulness and the depth with which she explores them, is absolutely unique."
Grosse Fatigue, which will also be on view at the New Museum, came out of a residency at the Smithsonian Institution in Washington, D.C. While wandering the vast archives of the largest museum complex in the world, Henrot became hyperaware of the paradoxes that can result from the human urge to classify and preserve. "The whole foundation of the Smithsonian seems to be very connected to the idea of guilt, and the idea of something that is disappearing," she says. At one point she was shown images of a coelacanth, a prehistoric fish that was long thought to be extinct; the museum acquired its specimen in the '60s after an American scientist had it killed and removed its brain for research.
Henrot's filming strategy on Grosse Fatigue involved a mix of organization and spontaneity. She interrupted a vacation in the Seychelles to get one key image, of a sea turtle that she watched for several hours while becoming increasingly sunburned ("the turtle was exhausted herself, trying to avoid me"). After telling me this, Henrot reaches into a folder and pulls out a hand-scrawled grid. On the single page is a schema of boxes incorporating everything from the stages of human desire to the symbolism of the triangle. She says it doesn't matter to her if viewers of Grosse Fatigue are aware of this diagram or grasp the theory behind the work. "In a way, this grid is something that we all have in our heads already—we're just not aware of it," she says.
Since early last year, Henrot has been based mainly in New York, a city that she finds unexpectedly zen in some ways, because "you can only survive there if you've already accepted the idea of change, transformation, precariousness." Another bonus for a lifelong Parisian: all the free stuff in the streets. Among the interesting leftovers from America's consumerist culture that Henrot recently found on the sidewalk is a transparent shower door with a gold frame. "Now it's in my apartment, and it's really beautiful, and everyone thinks it's an art piece," she says.
Of course, life in eat-or-be-eaten Manhattan requires certain adjustments for a person who is by nature so discreet that she long hesitated to show her drawings, even the abstract ones, because she felt they were too revealing. Gallery openings can be particularly difficult, since Henrot has yet to master the art of small talk. "At openings I always get stressed, then I drink, then I look for someone nice to smoke with," she says.
After working in just about every imaginable medium, Henrot lately has been fantasizing about what it would be like to focus solely on painting. Or, more to the point, to live the life of a painter. "You know, just me in my studio, not having to worry about the availability of the cameraman, or how much things weigh when you ship them." Still, she admits that for someone like her, the limitless possibilities of an empty canvas could invite their own set of complications: "Facing that might actually be much more difficult than what I'm already doing."
Photos: Camille Henrot: Mind Games
Henrot's l'Entretien Infini, 2012, made of dried flowers, rose petals, and plastic pipe. Photograph by Fabrice Seixas, Courtesy of the artist and Kamel Mennour, Paris.
The artist at work in the studio.

Photographer: Dylan Don
A work in progress incorporating ceramic, anthurium, and corkscrew willow.

Photographer: Dylan Don