Can Jeffrey Epstein's House Be Used for Public Good?
Preservationists are hoping it can save its neighbor, the Frick.
---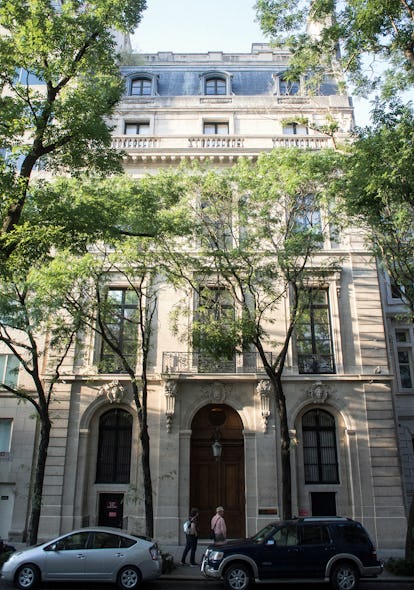 It's been five months since he mysteriously died in his Manhattan jail cell, but Jeffrey Epstein continues to poison everything he ever touched. (Just ask Prince Andrew, whose connections to the late sex offender forced him to step back from his royal duties late last year.) But in the case of the Frick Collection, Epstein's fall just might be the esteemed New York institution's saving grace. Several years into the feud over the Frick's expansion plan, two New York preservation groups—Stop Irresponsible Frick Development and Save the Frick—have proposed Epstein's townhouse as an alternative to the institution's current plan, which involves gutting a portion of its historic space.
As it turns out, Epstein lived directly across the street from the Frick, which houses the Rembrandts, Goyas, Fragonards, and Vermeers that belonged to its former resident, the industrialist Henry Clay Frick. Since opening to the public in 1935, the museum has expanded its collection—and, much more carefully, its home on E. 70th Street. The Frick is devoted to preserving its founder's mansion; it's even a key part of its mission statement. And yet, its current plan to repurpose its current 60,000 square feet and add an additional 27,000 involves demolishing its beloved reception hall and music room.
Meanwhile, Epstein's former residence—a seven-story structure spanning 21,000 square feet—sits in disuse. "I can't imagine a family that would want to raise their children in that cursed mansion. It's going to be hard to sell," Theodore Grunewald, the preservationist behind Save the Frick, told the New York Daily News. "The fact that it's so convenient to the museum means that the Frick could potentially lay Jeffrey Epstein's name to rest by purchasing it and changing the function. It could essentially be cleansing the house."
Cursed legacy aside, it does sound as though the townhouse would be a perfect fit. The New York Times has described it as one of the largest private homes in Manhattan, and comes with amenities such as a heated sidewalk that melts snow. (Its entrance also features a set of 15-foot oak front doors, though they now bear signs of that time last summer when the FBI and NYPD pried them open with a crow bar, only to discover hundreds of photos of underage girls.)
Of course, its legacy still seems all but impossible to overlook. But as far as options on E. 71st St. go, the outlook is grim. The Frick will continue to face the townhouse where Epstein reportedly allegedly assaulted underage girls. (It's also now a symbol of sorts for the sex offender's ties to Victoria's Secret; Epstein, who reportedly approached some young women as a talent scout for the company, inherited the home from Leslie Wexner, the CEO of Victoria's Secret's parent company.) Then again, the Frick has some experience with pesky, predatory neighbors: Bill Cosby's former residence is also on E. 71st St.
Related: The Most Absurd Things Prince Andrew Said During His BBC Interview About Jeffrey Epstein