Oh Canada!
One of New York's scrappiest, most anti-establishment galleries is facing its biggest challenge yet: success.
---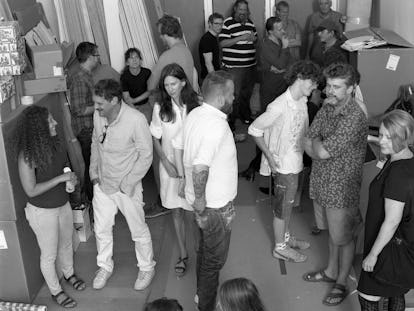 Photographer: Jeff Henrikson
Three years ago, the art dealer Phil Grauer was looking to expand Canada, the New York gallery he started in 1999 with his wife, Sarah Braman, as well as Wallace Whitney and Suzanne Butler. A former Chinatown print shop just a few blocks from their current location had a for rent sign in the window. The space was ideal, but they were strapped for funds. So they rounded up their artists, including Joe Bradley, Matt Connors, and Michael Williams, painters who were then on the cusp of stardom, and brought them to see the site. Standing in a 15-foot hole in the ground, the partners asked them all to imagine—and invest in—Canada's future by loaning work, with the promise that they would be compensated…eventually. Not a single artist hesitated.
Most contemporary galleries are not run like co-ops—but then, Canada is not a typical gallery. Sixteen years in, the partners still like to think of it as an "experiment," although at this point that's a little like saying that the career of Jackson Pollock was the result of an accidental paint spill. Grauer, 50, a former artist who had become disillusioned with the Chelsea gallery system, started Canada as a place where artists might feel protected from cynical outside interests. From the outset, the partners made a point of disengaging from the ritual politicking in which many dealers engage. Or, as Butler, 45, puts it, "We didn't bro-down and supply the cocaine." But sometimes that attitude got them into trouble. In 2004, having exhausted the generosity of friends who had helped keep the Canada experiment running, they applied for a spot in the New Art Dealers Alliance (NADA) art fair. They were rejected.
"I remember feeling junkyard-dog hungry," says Braman, 45, a generally unhurried woman with a serene smile. After repeated phone calls went ignored, they buttonholed the NADA cofounder John Connelly at his gallery in Chelsea. Voices rose. The insinuation was that unless Canada was allowed into the fair, things could end badly. "He put his hands up," Braman recalls, "and just backed away."
"We weren't exactly following the etiquette," Whitney adds, unnecessarily.
"Poor John," says Grauer, who now sits on NADA's board of directors. "To this day, it embarrasses me whenever I see him."
Having secured a spot, the partners loaded up a U-Haul with all the artwork they had, including sculptures by a young artist named Gedi Sibony, whose first solo show at Canada had recently been favorably reviewed in The New York Times, and road-tripped to Miami, where they covered every surface of their booth in a motley display. They told everyone it was a salon-style hang, but in reality it was probably closer to a flea market stand. At one point, the veteran dealer Andrea Rosen walked by. "That's different," she remarked. When a collector inquired about the sculptures, Grauer replied, "You can't buy this Gedi Sibony unless you also buy one of the other pieces of shit in this booth!"
It was an unorthodox, but ultimately effective, way of doing business. For years, Canada was the place to see something raw or alien, but the gallery's quirky program proved prescient. Last year, three Canada artists—Bradley, Williams, and Connors—were included in "The Forever Now: Contemporary Painting in an Atemporal World," a blockbuster painting survey at the Museum of Modern Art, in New York. The artist Joanna Malinowska, who has shown with Canada since the beginning, represented Poland at this year's Venice Biennale. And yet, for Grauer, these milestones are also fraught with tension.
"I think Phil is really resistant to having a successful gallery," Williams says. "Or, rather, he wants it both ways—he wants respect, but he resents that he wants it." Canada finds itself in a curious position, reminiscent of, say, an indie band that is suddenly offered a deal with a major label. It's difficult to pass yourself off as just a gang of scruffy friends when you have a handsome new gallery—the look of the renovated print shop, unlike the last two iterations of Canada, telegraphs lofty aspirations—where the work sells well into the six figures.
Part of Grauer's problem is that he is now getting caught up in the very system he once rejected. "It started out a little fight-y," Braman, who is a sculptor, says of Canada's origins. In 1999, when Grauer was working in photography, he became embroiled in an ugly legal dispute over the authorship of some images on which he had collaborated with another artist. In response, Grauer rounded up some friends (there was a fifth cofounder, Aaron Brewer, who eventually decided he couldn't stand the chaos) and went, literally, underground, taking over the basement of the powerful dealer Leo Koenig's gallery on lower Broadway. They called their gallery Canada—a name that still causes confusion—not because Grauer is from Montreal, but because they liked the shape of the letters, and they felt it was draft-dodgy in spirit and sounded "not that ambitious." Whitney, 45, admits that it was probably "a bad business decision."
Early on, Canada championed the work of friends like Cheyney Thompson and Robin Peck, as well as the partners' own stuff. With few exceptions, dealers who show their own work are frowned upon in the art world. Canada might have carried on doing so, had The New York Times's ** Roberta Smith not stopped in one day when Whitney's abstract paintings were up. When Smith, the critic who has probably been the most vocal supporter of Canada's program, asked Whitney about the paintings, he panicked and started referring to himself in the third person. "Anyone normal would've said it was their work," he says. He tried to keep the ruse going, twisting his pronouns into syntactical knots, until finally it became painfully apparent to Smith what was going on.
The aftermath of September 11 wiped out what little business Canada had been doing in TriBeCa, but with some FEMA allocation in their coffers, they had the opportunity to start fresh. In 2002, they found a space with a funky back room in a Chinatown office building and renovated it themselves. Meanwhile, a lively gallery scene was percolating around them. Reena Spaulings, which is also run by artists, set up shop in the neighborhood. The nearby Rivington Arms was starting to cast a shadow, thanks to the artist Dash Snow. Then there was the British dealer Kenny Schachter, who seemed poised to become the king of the downtown art scene until he ran off to London with the socialite Ilona Rich in 2004. Canada took on the artists he left behind, including Brian Belott, Brendan Cass, Katherine Bernhardt, and Bradley.
Despite the semi-regular sight of naked men rushing through the gallery whenever the police raided the brothel upstairs, Canada was starting to gain traction as serious collectors ventured downtown. "It was fabulous," recalls the gallerist Jeanne Greenberg Rohatyn. The respected collector Martin Eisenberg found its lack of airs charming: "It's nice to walk into a gallery that still has a family feel to it." The conceptual sculptor Michael Mahalchick put on some legendary shows, including one in 2004 where a different artist performed in the gallery every night for a month. That same year, Smith wrote in the Times about some very promising abstract sculptures from Sibony's solo debut, taking note of their "wry guerrilla formalism."
Then Sibony won a spot in the 2006 Whitney Biennial. "We were all, 'Woo-hoo! Finally,' " Whitney recalls. At the time, the partners still maintained alternate sources of income: Braman cleaned houses, Butler did bookkeeping, and Grauer and Whitney worked construction. They even built a garage for a collector in upstate New York for extra cash. (It looked stunning but turned out to be too narrow for the client's cars.) »
However, the triumph was short-lived: Sibony soon decamped for Greene Naftali, a well-respected gallery in Chelsea. "It was hard to take," Grauer says. "We had done so much coaching with Gedi; then he bet against us." He then softens his position somewhat. "The truth is, it's the dealers who are scrambling around desperately trying to stay relevant. It's a very violent game. It rips apart social fabrics, and I think galleries are fragile cultures."
It's a simple rule of life that people often outgrow one another—but here, too, Canada clings to its sense of exceptionalism. The partners are forced to think about this often: Canada has acquired a reputation as an incubator, and several of its longtime artists, including Bernhardt and the trio of Bradley, Williams, and Connors—affectionately known in-house as the MoMA Boys—have deep-pocketed galleries vying for them. But because the Canada founders are also artists, there is an unusual level of trust in their transactions with the artists they represent. Take Connors, who started out working on a very small scale. On the morning of the opening of his first show, in 2008, he hung several canvases—far too many, he admits—and then went to lunch. When he returned, he discovered that Braman had taken half of them down. "I was an overzealous young artist, and it was a lesson I wouldn't have learned any other way than by seeing it," explains Connors, whose work now consciously addresses issues of space and scale. Grauer tends to be more confrontational. He has no problem telling an artist that he thinks something is worthless—but he always delivers such assessments with throwaway comic timing. "The thing is, Phil's not an asshole," Bradley says. "There are a lot of assholes who pretend not to be assholes; I'd rather have a mensch who's pretending to be a jerk."
Every couple of summers, the partners, the artists, and their families and friends spend a weekend at a Quaker retreat in Western Massachusetts, near where Grauer and Braman reside with their three kids. They sleep in bunk beds. They camp. They eat tacos. They put on talent shows. Friday evening is Lesbian Night. "One of our artists, Xylor Jane, lives in the next town," Braman says. "She invites the whole Hilltown lesbian squad and brings in a pizza truck." But just a few days before they were due to head up there this past August, Braman calls to tell me it's off—too many people had pulled out at the last minute. The more successful the artists become, the more they are in demand. It's getting tougher to gather the whole gang.
In September, Canada opened its most ambitious show to date, a massive takeover of the gallery by Samara Golden, a newish star on the scene, that took six weeks to install. Golden got her start at Night Gallery, in Los Angeles, and her arrival at Canada is a sign of its expanding reach. But Grauer, never quite satisfied, still has bones to pick. He is reprising an old battle, only this time with a different opponent: Eva Presenhuber, the Zurich dealer who brought Bradley's work to Art Basel in June and who sits on the fair's powerful jury. The Swiss fair tends to value exhibitors who have developed their own talent, and the Canada team suspects that Presenhuber would like to bury Bradley's long history with the gallery, which has been refused entry. "We should get straight up in her face!" Grauer exclaims, then catches himself and sighs. "We think we're more mature now, like we don't need to issue threats. But I think we still do."
Because Canada's pugnaciousness was formed in basements and back rooms, it's possible that Grauer feels that if he were to take his place at the table now the whole thing would disappear. "The other dealers are well-heeled dudes," he says. "They're at these dinners; they introduce their artists, and the artists are brought into the light. Over and over again, I find it's the opposite with me. It's Joe Bradley at the table, or Matt Connors. And I show up and everyone is like, 'Who's that guy?' And the artists have to be like, 'Oh, him. That's my original dealer from New York.' " He pauses. "It's kind of backward, but I love it when the artists are doing great." Sitting in his spanking-new office on the gallery's second floor, he makes a circular motion behind his ear, indicating the gleaming, inviting space—as if to say, 'Look at this crazy thing our artists helped us build.' He seems incredulous and, at least for a moment, not at all unhappy with his lot.
Photographer: Jeff Henrikson
Canada partners Suzanne Butler (far left), Wallace Whitney (seated, front), Phil Grauer and Sarah Braman (in blue and in light pink, far right), with director Adrianne Rubenstein (far right) and gallery artists Samara Golden (in black shirt, on table), Jason Fox (in blue shirt, far back), Luke Murphy (in front of Fox), Michael Williams (center, in gray), Matt Connors (center, in white), Michael Mahalchick (at back, in navy stripes), Tyson Reeder (to right of Mahalchick), Joe Bradley (in baseball cap), Brian Belott (far back right, in blue), Joanna Malinowska (in front, kneeling), and assorted friends, colleagues, and family.

Photographer: Jeff Henrikson
The team installing Hawk From a Handsaw. Photo by Sarah Braman.
Joanna Malinowska's Hawk From a Handsaw, 2013. Hawk from a Handsaw: Photograph by Phil Grauer; team: Sarah Braman
David Askevold's performance Two Hanks, 2003. Two Hanks: Photograph by Phil Grauer; Team: Sarah Braman.
Samara Golden's installation A Fall of Corners, 2015. Photograph by Phil Grauer.
Michael Williams's Ikea Be Here Now, 2013. Photograph by Phil Grauer.
Matt Connors's Gatefold Maquette, 2014. Photograph by Phil Grauer.
Photography assistant: Ian Hoogenboom