Congrats, Candice!
In case you missed them, here are the top style news stories of the week.
---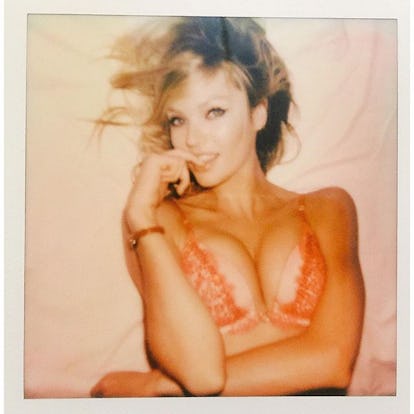 American Apparel May have to file for bankruptcy. Stock up on your gold lame leggings now, before it is too late.
H&M Released a look from its new Balmain collab. Okay, maybe pick up one of these pieces instead of the leggings.
Bloomingdales Accidentally gave some customers $25,000 in store credit. Only one went on a shopping spree.
Couderc, Patrick The Hervé Leger executive announced that he didn't want to see fat or gay women wearing the brand's bandage dresses. Was promptly fired.
Cox, Laverne The actress debuted bangs. Did not wear a bandage dress for the occasion.
Goodwill Opening chic, upscale boutiques in wealthy neighborhoods.
Klum, Heidi Is totally fine with the fact that Donald Trump no longer thinks she's a 10.
Lawrence, Jennifer Is now the world's highest paid actress. No word on how Donald Trump ranks her appearance.
McCartney, Stella Will no longer use wool from Patagonian farms after discovering one out of 26 was mistreating its sheep. Is running out of materials faster than you can say "Birkin Bag."
Nordstrom Opened a new edgy space for up-and-coming designers, creatively called Space.
Swanepoel, Candice The Victoria's Secret Angel is engaged to her long-time boyfriend. Congrats!
The Fat Jewish The Instagram star and comedy thief plans to show at NYFW this season. Will certainly knock off designs.
Webster, Sophia Designed a collection of heels inspired by Barbie. Wasn't aware of Jeremy Scott's Fall 2015 collection for Moschino.