Candyman Trailer: Say My Name, Say My Name
Jordan Peele gets gory, thanks to the director Nia DaCosta.
---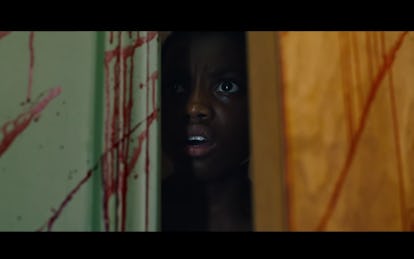 In case you had any doubts that Nia DaCosta and Jordan Peele's update of Candyman would be a fresh take on the original, look no further than its soundtrack. Whereas Philip Glass provided the music for the 1992 version, the film's new trailer peaks with Destiny's Child's "Say My Name." Naturally, it's a reference to how the titular Candyman is summoned: by saying his name five times in front of a mirror. The first in the trailer to do so are five tweens gathered in what appears to be a school bathroom, where they're standing side by side in front of the mirror. Spoiler alert: It does not end well.
There's another major difference between the films: In the 28 years since the original Candyman was released, its setting, Cabrini-Green—the infamous Chicago public housing complex—has been demolished. To director DaCosta, then, it was key for her "spiritual sequel" to explore the theme of gentrification. "The original was a landmark film for black representation in the horror genre," Peele said when announcing the film in 2018, citing it as one of his "major inspiration[s]." He cowrote the film with Win Rosenfeld and produced it, as well as handpicking DaCosta, who broke out in 2018 with the thriller Little Woods.
The film stars Yahya Abdul-Mateen II (of Us) as Anthony McCoy, an artist who finds himself fascinated with the urban legend of the Candyman. His girlfriend, Brianna Cartwright, played by Teyonah Parris (of If Beale Street Could Talk), is far less enthused. Virginia Madsen and Vanessa Williams, who were in the original, have returned, and one more Candyman alum is rumored to join them: Tony Todd, the titular Candyman himself. The trailer doesn't offer any hints in the way of his comeback, though it does confirm DaCosta's previous promises that there'll be much more gore than usual for Peele.