Cara Delevingne, Yes, That Cara Delevingne, is Now a Novelist
The model turned actor has penned a coming-of-age mystery called Mirror, Mirror.
---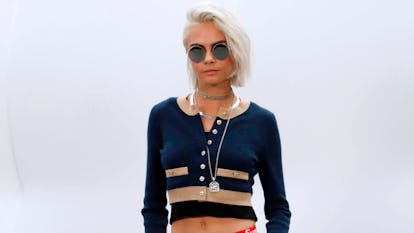 FRANCOIS GUILLOT/AFP/Getty Images
Model-actor-It Girl Cara Delevingne is about to add another hyphen to her ever-growing list of job descriptions: author.
Delevingne announced on Instagram Tuesday that her latest professional pursuit has been writing a novel.
Delevingne describes her book, Mirror, Mirror, as a "twisty coming-of-age story" about a group of high-school-age friends who are left to reckon with a mystery when one of the young women dies, leaving behind a note that reads only: "Sorry." As the surviving members of the group turn to different modes of escapism to deal with the tragedy, one of the friends, Red, instead takes it upon herself to find out exactly what or who took their friend's life—and changed their friendships and reality forever.
In her Instagram post, Delevingne also says the process of writing her first novel was "life-changing" and that she hopes her novel will prompt the formation of "one big virtual book club!!! Cause I want us to talk about this time in life, self-discovery, friendship, pain, triumph!! Being a teenager!! The experiences that shape you!"
According to Amazon, Delevingne's literary debut novel might be right for those who enjoyed reading Go Ask Alice, YA favorite We Were Liars, and this summer's popular and critical hit, The Girls, by Emma Cline.
While many other current and former models have written books, Cara Delevingne stands out for her choice to make her debut with a novel as opposed to a memoir or other nonfiction work. And unlike Tyra Banks' young adult novel Modelland, Delevingne's forthcoming work has nothing to do with the modeling or fashion industries.
Delevingne's literary ambitions have hardly detracted from her other work, however.
She's starring in the new campaign for Chanel's Gabrielle handbags, appearing in a new music video for beauty brand Rimmel, and has been working [with refugees in Uganda through the United Nations' GirlUp campaign .
And of course there's her booming acting career too: After starring in 2015's Paper Towns, Delevingne will be co-starring with Rihanna and Dane DeHaan in the soon-to-be-released film Valerian and the City of a Thousand Planets and appearing in the upcoming historical drama Tulip Fever. She also recently signed on to co-star with Jaden Smith in Life in a Year, another teen-oriented piece of entertainment that centers on a young death.
Mirror, Mirror is already available for pre-order and will be released in the U.K. on Oct. 5.
Cara Delevingne Does ASMR, Revealing How She Got Into Character For 'Suicide Squad':