Cara Carries Karl
In case you missed them, here are the top style stories of the week.
---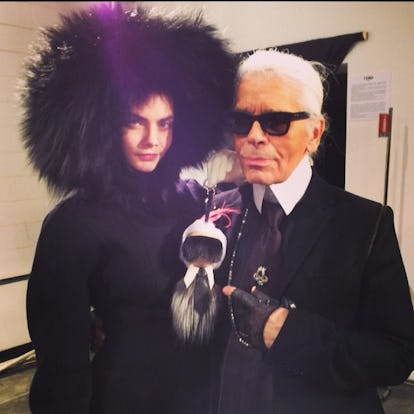 Berkus, Nate Stars with his fiancé Jeremiah Brent in Banana Republic's new, Oprah-approved ad campaign.
Beyoncé Wore $2 million worth of diamonds to the 2014 Brit awards, because that time she donned $1 million worth to the supermarket didn't garner enough buzz.
Cavalli, Roberto Called designer Michael Kors a copycat; must be itching for fashionable fisticuffs.
Delevingne, Cara Carried a Fendi Karl Lagerfeld doll down the runway; distracted us momentarily from the news that she is dating Michelle Rodriguez.
Gaga, Lady Wore a Balenciaga ensemble that New York magazine described as resembling a clove of garlic. Someone must be hungry.
Jones, Stephen The British milliner married his partner Craig West; deprived the public of wedding photos we can only assume included the best fascinators in history.
Kardashian, Kim Is mad that the color of her sweater was photoshopped on the cover of OK magazine; still pleased with her edited Instagram images.
Minaj, Nicki Being sued by her official "wig guru" Terrence Davidson. Reminds readers that she has a wig guru on the payroll.
Nicoll, Richard The designer was named creative director of Hollister's UK counterpart Jack Wills; leaves the SoCal look in the dust.
PacSun Offended a mother in Utah with line of sexy T-shirts; owes her a Thank You note for all the free press.
Rihanna Plans on launching her own label; Adam Selman, are you listening?
Stefani, Gwen Designing affordable and presumably "Hella Good" accessories for ShoeDazzle.
Williams, Pharrell Auctioning off That Grammys Hat, designed by Vivienne Westwood, for charity on eBay. Big-headed bidders, get your wallets ready.