How Do You Spell 'Delevingne'?
In case you missed it, here are the top style stories from the week.
---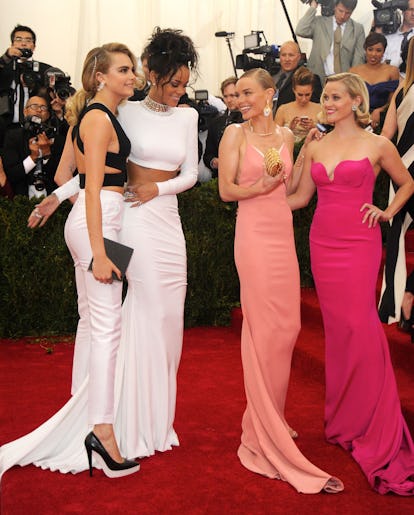 Delevingne, Poppy Banned Instagram from her upcoming wedding. Sorry, Cara.
Jagger, Georgia May Explains her edgy Met Gala ensemble by announcing that she is the new face of Thierry Mugler's Angel fragrance.
Keys, Alicia Is the new face of Givenchy Parfums. Smells like a winning combination.
Kloss, Karlie Goes to Harvard. How Tyra of her.
Lima, Adriana Is back on the market after separating from her husband of five years, Marko Jaric.
Lively, Blake Always thinks, What would Gisele do? when getting dressed. Who doesn't?
Louis Vuitton Bringing the brand's Cruise 2014 show to Monaco. Upstages Dior's Brooklyn adventure.
Rocha, John Has announced that he will retire from London Fashion Week. Leaves more room for his daughter, Simone.
Selter, Jen The queen of the Insta-butt is now writing a fitness column.
Swift, Taylor Wore sneakers. Was still tall.
Turlington, Christy Starring alongside her husband Ed Burns in Calvin Klein's new campaign. If it ain't broke…
Vodianova, Natalia Gave birth to baby boy, Maxim.
Weinstein, Harvey Is making a film about Charles James. If anyone can, it's Harvey.
Witherspoon, Reese Revealed that she doesn't know how to pronounce Delevingne. No one ask her to spell it.