Cara vs. Cecil
In case you missed them, here are the top style stories of the week.
---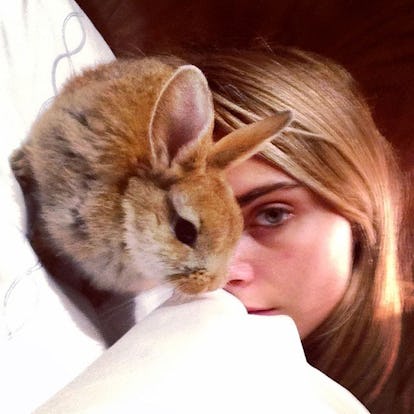 Buzz Cuts Are making a major comeback. Thank you, Comic-Con.
Campbell, Edie The supermodel won a horseback riding race.
Delevingne, Cara Wore a rabbit fur coat to Leonardo DiCaprio's environmental fundraiser. No one tell Cecil.
DiCaprio, Leonardo Ignored Cara, wore cargo shorts.
Hale, Lucy Collaborating with Hollister on a capsule collection. And that's no pretty little lie.
Hermes To open a new shoe salon in New York. Get your credit cards ready.
Johansson, Scarlett Dyed her hair yellow. Not blonde, yellow.
Kroes, Doutzen Gave birth to a baby girl. Congrats, angel!
Leggings Keep getting fancier and fancier. Stay tuned for an Oscar-worthy pair next year.
Primark The British chain was forced to remove a too skinny mannequin. Why didn't they listen to La Perla?
Rousteing, Olivier Claims that he loves it when Zara knocks off his designs for Balmain. Probably doesn't mean it, really.
Sebba, Mark The former Net-a-Porter CEO had quite the elaborate send off, which included a mariachi band and a gospel choir. Bon voyage!
Werbowy, Daria Dons a Joan Jett-inspired wig for new Equipment ad, proves there's more to fall 2014 than buzz cuts after all.
Zoo Jeans A Japanese denim label is allowing dangerous animals—lions and tigers, but not bears—to design their new collection. Just keep them away from Cara.