Cardi B's Milestone Balenciaga Campaign Is Hanging on the Louvre
She's the brand's first celebrity face in recent memory.
---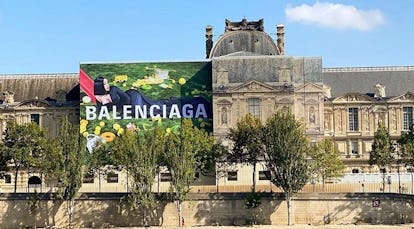 When Cardi B rapped "I like those Balenciagas, the ones that look like socks," in her song "I Like It," she might have been manifesting something. On Instagram this morning, the "WAP" rapper revealed that she's the new face of Balenciaga. The image, featuring Cardi in a black bob and a midnight blue evening gown spread out on a green lawn strewn with yellow children's toys, was self shot during lockdown, according to the brand. It's the first image released from the Paris fashion house's winter 2020 campaign.
Though Cardi has appeared on the cover of numerous fashion magazines (including W), this is her first time starring in a campaign for a major house.
Though, fashion industry obsessives may be buzzing for a different reason: Cardi is the first celebrity to appear in a Balenciaga campaign in recent memory.
Since taking over as creative director in 2015, Demna Gvasalia has won numerous celebrity fans (including, even, Michelle Obama), but he's mostly relegated the VIPs to the front row. On the runway and in advertising campaigns, Gvasalia gravitates toward street casting, a few select "friends of the house" (including artist Eliza Douglas), and lesser-known models. In fact, he's only ever used "supermodels" a handful of time on the runway. Alek Wek and Catherine McNeil appeared on his spring 2017 runway, which was noted as a first. When Bella Hadid walked down the catwalk last September, it was notable: she was the first of the "Instagirls" to appear in one of his shows. In fact, while actresses Kristen Stewart and Charlotte Gainsbourg appeared in Balenciaga fragrance campaigns in the early 2010s, you'd have to go back more than 10 years and two creative directors ago to find the last time a celeb featured into one of the brand's ready-to-wear campaigns. Former creative director Nicolas Ghesquière used his frequent muse Jennifer Connelly in a 2009 campaign.
With a debut on the side of the Louvre, its certainly a loud pronouncement. Cardi seems to be excited.
"Ya lookin at the face of a @Balenciaga campaign!" she wrote on Instagram. "I remember how I felt seeing myself on a billboard in NYC Times Square but PARIS! Wish I was there to see it in person!"
Related: Tilda Swinton Does Balenciaga's Hoop Skirt Justice in The Human Voice