Cardi B Explains Exactly How She Got Pregnant, on The Ellen DeGeneres Show
She already has a baby name picked out!
---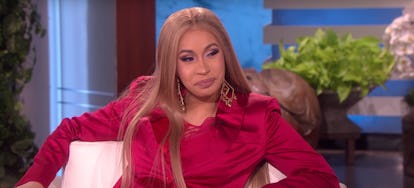 The Ellen Show/Youtube
Cardi B's high-energy, twerk-filled set at Coachella was amazing for many reasons, not least of all because she was pregnant—and no one has been able to stop talking about it since. On Thursday, though, the rapper revealed that there was one special meaning behind her performance that we all missed. Apparently, she had been giving everyone a play-by-play of the night she conceived.
"I was just trying to show the world how I got pregnant in the first place," she joked on The Ellen Show, as Ellen DeGeneres pulled up a photo of her mid-twerk. "Like that! Like that! That's how it happened. That's right."
"We were all curious and we didn't know how, so…" said DeGeneres. "Now we do, and that's great! Yeah, like that. Just like that!"
Cardi B also joked that the spirited choreography was enough to induce labor. "It looks like you're getting ready to give birth right there," DeGeneres said over clips of her performance. "Well, you know they say the more you move, the easier it will come out," the rapper responded. "You know what I'm saying? And I'm like, 'Come out fast!'" she added, as she gestured to her baby bump.
Elsewhere in the interview, Cardi B talked about her pregnancy cravings and the name of her and fiancé Offset's baby-to-be. "It really depends, like this whole week I've been eating ice cream, ice cream, ice cream," she said. "Then like, I like everything lemon-ish," she added, to which DeGeneres responded by presenting her with a tray full of doughnuts.
Over the sugary snacks, Cardi B revealed that she was not, in fact, the one who named the baby. "My dude named the baby. I really like the name," she said, without revealing what it is. "I'll let him say the name since he named the baby." Giving DeGeneres a hint (it's not "Susan"), Cardi B said that "it's almost tricky, but when it comes out, it's like, 'Ah!'"
You can watch the clips for yourself below.