Cardi B Gave Megan Thee Stallion a Custom "WAP" Birkin
Ten days later, the "WAP" craze is still going strong.
---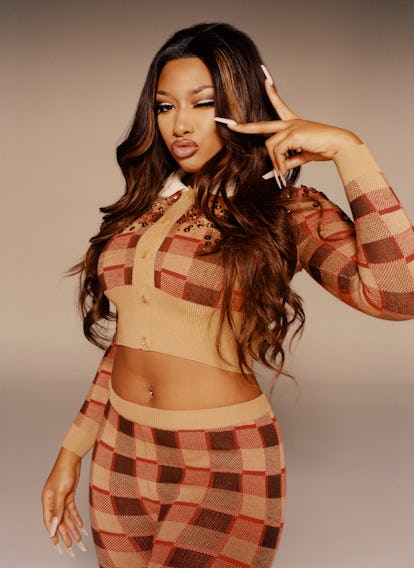 Photographed by Colin Dodgson; Styled by EJ King. Hair by Kellon Deryck for Flawless Illusion Hair; manicure by Coca Michelle. Booking by Special Projects. Produced by Wes Olson at Connect the Dots Inc.; production coordinator: Hannah Murphy at Connect the Dots Inc.; photography assistants: Justin Lostutter, Colin Smith; retouching: Leverpost; fashion assistants: Alexandra Assil, Nadia Beeman; production assistants: Nikki Patrlja, Alison Yardley; tailor: Hasmik Kourinian.
It's been 10 full days since Megan Thee Stallion and Cardi B dropped their monumental music video for "WAP," and yet the world is still reeling. On Monday, Billboard announced that it broke the streaming record for a song's debut week—that would be 93 million streams—and is now the first female rap collaboration to debut at no. 1 in the Hot 100 chart's history. Meanwhile, the video's views—currently more than 107,000,000—are still climbing on YouTube.
Naturally, Cardi wanted to commemorate those milestones. And naturally, she chose to do so with a Birkin bag, a gift she bestows upon only the most worthy of recipients. "I know you fuckin' lying'," Megan said in an unboxing video Instagrammed shortly after news of their records broke. Unlike the one Cardi gave her two-year-old daughter earlier this summer, Megan's is custom, featuring a scene from her solo snow tiger portion of the video and a few details befitting of the song's refrain.
"I wonder what I'm gonna get her," Megan captioned the video with three smiling-face-with-horns emojis. After all, this was no small gift: Birkins have sold for up to $380,000, and are considered a worthier investment than gold. Still, Cardi isn't alone in turning one into a canvas. Kim Kardashian West has one covered in naked women, courtesy of the artist George Condo, and Mohamed Hadid has one emblazoned with his daughter Bella's eye.
Over the weekend, Cardi revealed that she'd also treated herself to a custom Birkin, Instagramming a video of herself carrying a paisley one to match her bandana Natasha Zinko dress. But don't let that distract you from the video's other, slightly more pragmatic feature: Cardi's gynecological advice. "I'm doing this video so y'all can keep y'all pussy on WAP, you know what I'm sayin'?" she asks, tackling the subject of pH balance while twirling to best show off the bag.
Related: Megan Thee Stallion's W Cover Story