Cardi B and Megan Thee Stallion's Single Cover Art Is Instantly Iconic
The cover art for "WAP" is truly a gift to the culture.
---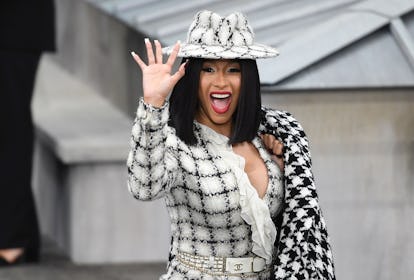 CHRISTOPHE ARCHAMBAULT/Getty Images
Megan Thee Stallion has graciously bestowed many gifts upon her fans in recent months—a song that inspired one of the most popular TikTok dance trends of the year, and a remix of that same track in which Beyoncé references OnlyFans come to mind—but she's got one more gift to give: a single with none other than Cardi B.
The two rappers both announced on social media that they will collaborate on a single called "WAP" that will be released this Friday. And while the word "iconic" is overused, this cover art—which depicts both musicians as they sit back to back, hair intertwined, matching wingtip eyeliner, tongues out—is instantly iconic, and likely an indication that the song will surely follow suit. Hopefully the two produced a (socially distanced) music video that fans can look forward to next.
Cardi B has been promising new music ever since she released her debut studio album Invasion of Privacy in April 2018, and though she has released some chart topping singles ("Money") and appeared as a featured artist on a handful of popular songs ("Please Me" with Bruno Mars) and ("Girls Like You" with Maroon 5), her fans have been waiting for a collaboration as major as this one with Megan Thee Stallion. Many of the replies to Cardi B's tweet announcing the single insist that "WAP" will usher in a new era for the rapper, too.
After releasing collaborations with both Beyoncé and Nicki Minaj, it was only a matter of time before Megan Thee Stallion and Cardi B would join forces. The only question that remains is, who will the Hot Girl Coach work with next?
Related: Cardi B's Louis Vuitton-Printed Hair Is Just the Right Amount of Extra